A Holy Win Against Althoff
Carbondale Terriers took on Althoff Crusaders at home on Friday, October 8th. The Terriers defeated the Crusaders 31-21 and are now 5-2. The Terriers are now 4-0 in conference and are guaranteed to become conference champions.
Coming into the game, Senior Will Skiles, a member of the Terrier football team, knew that this game was important for his team, "We [the team] knew the game was the most important game of the season because this game secured a playoff position and a share of the conference championship. Also, because this was the game ahead of us and we couldn't overlook them," Skiles plays at multiple positions, including wide receiver, running back, punter, and kicker.
In the first quarter, the Terriers displayed a dominant performance over the Crusaders. The Terriers' offense scored 11 points, while the defense stopped all the Crusaders' attacks. Senior Gabe Hilliard, running back for the Carbondale Terriers, had a total of 191 all purpose yards including 2 touchdowns throughout the game.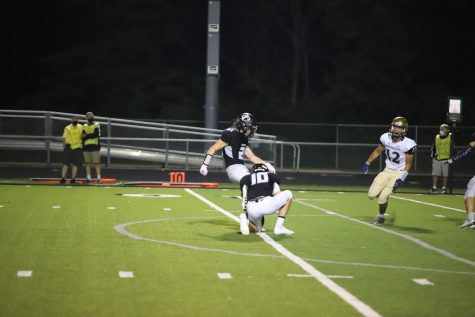 The Crusaders responded in the second quarter with a touchdown making the score 11-7 at the end of the half. Crusaders quarterback, Alex Poettker, ended the night with 1 touchdown and 3 interceptions. He completed 11 passes out of 26 attempts.
 After the half, both teams came out with a strong performance combining for a total of 20 points. The Terriers scored 13 points while the Crusaders scored 7.  Senior wide receiver DeMarcus Funches averaged 11.7 yards with 3 receptions for 35 yards.  
In the final quarter of the game, both teams scored 7 points ending the game at Terriers 31 and Crusader 21. Gabe Hilliard was awarded Player of the Game (via MaxPreps Offensive) and Will Skiles was awarded Player of the Game (via MaxPreps Special Teams). 
While looking back on the Terriers performance, Skiles knows his team could have performed better, "Our offense never truly got into a rhythm and we still outscored our opponent by 10. Out defense also didn't perform near the level it is capable of and still had numerous game changing plays and stops on that side of the ball," 
The Terriers will take on the Marion Wildcats at home this Friday at 7pm. This game will decide whether the terriers will be conference champions by themselves or share the title with Cahokia and Marion.