The Occupation Foods class here at Carbondale Community High School did a fundraiser to help fund the Rend Lake College Finals dinner. The two Occupational classes discussed what type of fundraisers they could do to help raise money for it.
 For pizza day, the club that was going to make the dessert bailed out at the last minute. As soon as the occupation teacher Mrs. Lipe got an email from Brandi Jones, she knew she'd found the perfect fundraiser opportunity. 
The occupation class then decided on selling cookies for a dollar. They made chocolate chip cookies two for a dollar, and then they made sugar cookies. The preparations being made for this event were designing a sign that would grab people's attention. They had to measure all of the ingredients and then in the morning they baked and packaged the cookies. Many teachers had to be contacted in order to finish the cookie production. Mrs. Lipe had to get a cash bank from the unit office. 
With all the effort that is going into this event, you start to wonder what all the benefits are for going to it. Mrs. Lipe, the culinary arts teacher, advocates, " It's a way to see the classic method and technique that we will be learning throughout the year. The OC can see in one place a wide variety of classic French cooking methods. We can see a 3 course meal using techniques we will be doing throughout the year."  
After the fundraiser, the class crossed their fingers as Mrs. Lipe counted the money. Off of the cookie fundraiser, the classes ended up making $120. Their goal is $240, putting them now halfway to their goal.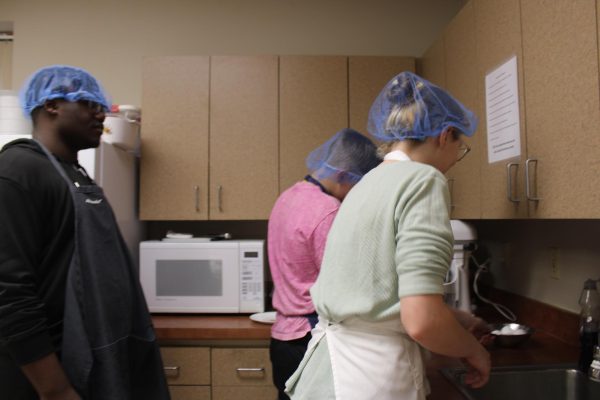 By only making it halfway, they have to come up with another fundraiser. The class plans to market to staff and faculty a meal for a certain amount of time. They plan to make soup and rolls and advertise to staff they can pick it up for a set amount of money. That way, dinner would be made that night and all they would have to do is get it at the end of the day and preheat it up at home.
So, keep your eye out for more fundraisers to come because the class is working hard.