The Terrier Volleyball team has had quite the season, with a record of 21-13, ending undefeated in conference 7-0. 
The girls celebrated the team's seniors during their last home game on Wednesday, October 18th.
During the last home game of the season, the Freshman team lost 15-25 and 23-25, the JV team pulled out a win with a score of 25-23 and 25-18, however Varsity fell to the Pinckneyville Panthers 19-25 and 21-23. 
As the senior positions go, Ella Jo plays as the Varsity Libero, who is considered the best passer on the team. Lakendia is a Middle Hitter that plays primarily in the front row.
Before the game, the seniors were each asked questions about their final season.
When asked if she expected the season to go this well this year, Lakendia Swims said, "No, I feel like at first during the season our tournaments were horrible so starting out we weren't playing together as a team."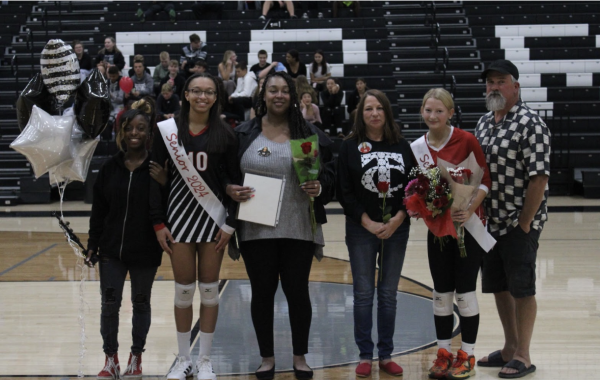 When asked if it was weird having only 2 seniors, Ella Jo said, "Yes, normally there is a whole team to make big decisions, but it only fell on the two of us so it was just hard."
It was the first year at CCHS for Freshman and assistant Coach Angelina Zanfardino, who said, "It was difficult at first because it was so time consuming and there was so much to learn, but overall it was super fun to be involved, grow relationships and to see them turn into better players."
If you'd like to learn more about the team, please contact Head Coach Fae Ragan or Assistant coach Jared Ragan.