Have you ever thought, "Why didn't my school have female football?" Well for starters, it probably did! Powder Puff Football is an activity done by schools for fundraising. What it is is female flag football. Powder Puff is usually one game played in the week before either Homecoming or Prom. 
Powder Puff Football is a known Homecoming tradition for high schools around the US, including Carbondale Community High School. This year, the Seniors and Juniors faced off on October 11th, on Frank Bleyer Field.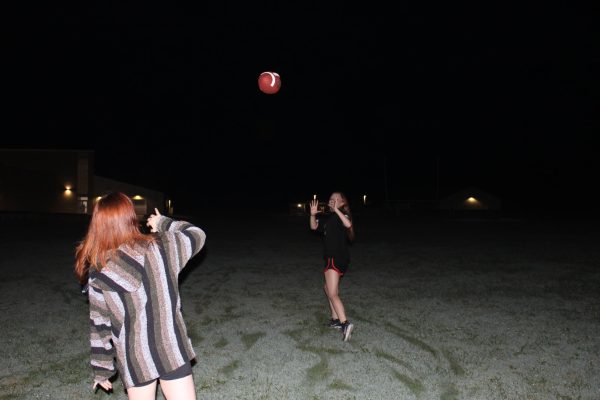 During the two practices, the Seniors went through a variety of drills and plays to prepare for the game on Wednesday. Some of the players had never played football before so there was a lot to do with too little time. 
The seniors were coached by Brock Bowlby; Quarterback, Henry Harsy; Captain, Zane Williard and Austin DeDecker; who are both Senior members of the Football team. The coaches were in charge of teaching the players how and when to run the right plays at the right times. 
There were many more people playing for the seniors compared to the juniors, which made it difficult for the seniors to stay on track since people were being switched in and out so often. 
At the end of the first half, the score was tied 0-0. The seniors started out the second half strong, getting a touchdown within the first few minutes. 
Unfortunately for the seniors, the juniors sought revenge and fought hard to quickly gain a touchdown themselves.
Coach, Brock Bowlby, was asked what made him decide to do Powder Puff and he said, "Powder Puff is just one of those things that people should feel like they have to do. It's so fun and definitely worth the time."
Through this year's Powder Puff Game, CCHS earned $1,300 for the Gum Drops Charity Organization based in Carterville, IL.