CCHS Walnut Street Entrance Under Construction
One of the many projects Carbondale Community High School has started this year is an extension to their Walnut Street entrance. The extension will be an add on to the attendance office.
The extension will make the school a safer place, and allow visitors to be seen before they officially enter school grounds. 
Because of the construction the Walnut Street entrance has been closed, and will stay that way for the remainder of the school year. This has caused annoyance in some students who are used to being able to leave through those doors once the day is over. 
Elena Reyes, a freshman at CCHS had some thoughts on the matter. "I'm used to getting picked up quickly from there without having to wait in that long line by the Giant City entrance, but now I don't have a choice." 
This will act as a check in point for anyone entering the school. It's no surprise CCHS is adding this as they have already installed metal detectors to their other entrances. This is just another thing so they can make their school safer for the students.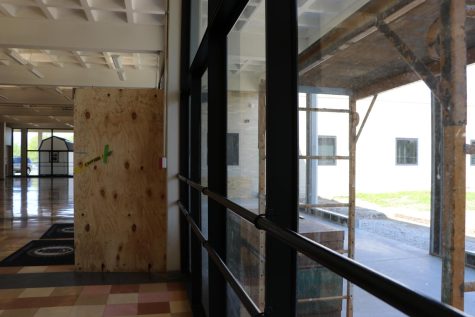 When asked, Gracie Cook, a senior at CCHS said, "I don't really mind it much, I'm graduating anyways so it won't even affect me. Besides, it'll make the school safer, esspecialy with everything going on in the world."
The construction that started recently will extend throughout the summer. The new entrance will officially open during the fall semester of 2023.