An Overlooked Restaurant in Carbondale IL: Sam's Cafe
Are you hungry, and looking for something different than what you regularly eat? You should stop by Sam's Cafe in Carbondale IL. Sam's Cafe has been serving the Carbondale Community since the 1990s. 
Sam's Cafe is known for being open late at night around 3 to 4 A.M.This Cafe specializes in fast food, primarily cheese burgers and gyros. Whats unique about Sam's Cafe is that there are only 3 workers. The owner, the cook, and the host 
"It's just been us 3 amigos for awhile now," said the owner Ibrahim Manderhach. Sam's cafe isn't a dine in cafe, it's more of a grab and go restaurant, it's more convenient considering there isn't much room inside the cafe. 
Sam's Cafe is open from 11 A.M. to 4 A.M. everyday of the week except for Sunday. Many people aren't aware that Sam's Cafe is open during the day because their door is usually closed and their usually very slow and don't get much business during the day. Weekend nights are usually when they get the most business.
 "Once Stix get a line, we get a line" said Manderhach.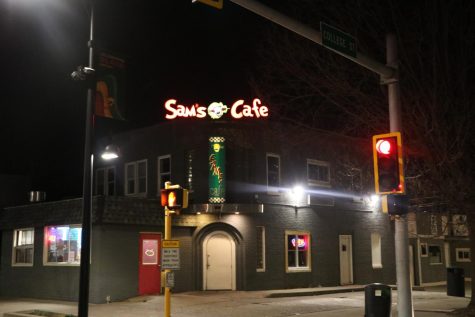 Lets talk a little more about the food. Sam's Cafe sells a variety of different kinds of food mainly Gyros, Burgers, and Cheese fries. But unlike other restaurants Sam's Cafe combines their dishes. They have a gyro cheese burger and something called ' The heart attack fries' which is a dish combined with multiple other dishes. Always room for something new.