The Stage Company's Immersive Methods To Prepare For Their Upcoming Show: She Kills Monsters
Carbondale Community Theater Group, The Stage Company, is well versed within the production of great and well-developed plays that many in town frequent as often as possible. These plays have garnered The Varsity Theater, the location of their show performances, a plethora of attention due to the positive buzz being held around each performance. However, a question many might not consider during their watch, is just how did the actors and directors go about pre-production?
This question in particular happens to come off as particularly enlightening when put in the scene of Kaitlin Bruno and Sarah Dubach, the Director and Assistant Director of the newest upcoming play "She Kills Monsters" respectively. Bruno's methods of practice and pre-performing is not only immersive and unique, but it has been a clutch for many of the actors to properly get into the true mindset of their characters within the show. 
Of course, general script readings will show up in every different performance's practice. That's a given with any sort of play. But most people ignore the stage management, fight choreography, and character immersion that goes into truly becoming your role – allowing for the performance to really shine above others.
The behind the scenes of such practices prove just how innovative and vigorous the time and efforts spent are and can be. Firstly, stage pieces in the set have to be blocked scene by scene in order to build an easy movement and flow within the performance. Each director's view on a script is unique- even if the words within the script are the same. Bruno herself is given a meaty task in performing her first directorial debut through such an involved script, but that in no means gives credence to the work being subpar. In fact, Bruno involves herself greatly with the experience of the actors. 
"Directing my first performance has been wild… it's a very different feeling, a very empowering feeling and a very freeing feeling, but it's also pretty scary to have that responsibility on you. I am just very lucky to have an amazing cast and production team that has made this experience significantly better than I think it could have been under any other circumstances."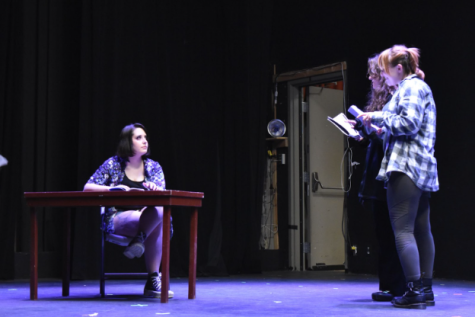 This, however, is not where the efforts end. In fact, the skills put behind the prep-work only further increases from here onwards. As a way to better understand the world they will be residing in during the performance, many of the actors will actually be learning and playing DND with an experienced DM (dungeon master) in order to gain the experience. Not to mention, each scene is being meticulously choreographed from line to line to ensure a smooth sailing, with action and drama tangled within the actor's performance. 
Through all of this, Dubach speaks on her beliefs and confidence of the show itself, stating, "There will be days, even weeks, where nervousness will be my overriding emotion, but as of right now, I'm REALLY confidant and very excited for the future of the show." 
Of course, with the actors learning sword training and a sole individual directing their movements and action scenes, it would ultimately be tiring on said actors. This is, however, exactly why the actors have been set to make a steady effort to stay in good health and hydration before each practice, another form of dedication to the performance itself outside of the stage managerial side. 
The production is diligent and thought-out, with various other not mentioned individuals lending out great hands and efforts into the creation of Bruno's first directed play, but hopefully nowhere near her last. Not to mention the credit to the Assistant Director Dubach, and the actors themselves, creating a combined effort of immersion that will lead to a delightfully exciting show. Be sure to see the performance on one of the following days: March 24-26//March 30-April 2.