How To Make Kool-Aid Drink
Hang on for a minute...we're trying to find some more stories you might like.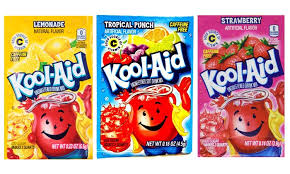 Kool-Aid is a a powder added to water to make a fruit flavored drink. Kool- Aid's price can range from 0.20 – 0.25 for a single package. It can come in many different flavors and they are sold at  Walmart, Save-a-Lot, Kroger, Dollar General, etc. It's a cheap sugary drink!
Ingredients: 
1 One Gallon Pitcher
2 Kool-Aid Packets Of Your Choice
3 1/2 Cups Of Sugar
1  Spoon
1 Gallon Of Water
1 Stirring Spoon
Directions:
Step 1 – Open Top To Pitcher
Step 2- Add 3 1/2 Cups Of Sugar
Step 3- Add 2 Kool-Aid Packages
Step 4- Add Water
Step 5- Stir Until Sugar Is Dissolved Into Kool-Aid
Step 6 (optional) – Add Ice and Serve