Carbondale Terriers Start Spring Break with a Bang at Solo and Ensemble Contests
On March 5th, The Carbondale music program could be found spread about Murphysboro High school with 15 other schools competing in the Solo and Ensemble contests. These performances were all the product of a month or more worth of work on every student's part learning, practicing and perfecting a variety of musical pieces ranging from college to beginner level, acapella to instrumental, and the most prevalent difference, solo's and ensemble's.
 While many people often don't see much difference between these two, they tend to put their performers into much different mindsets, and many people feel differently about each. I was able to get interviews with two of the senior performers, Riley Porreca and Catherine Mitchell, who had both solo and ensemble performances. Riley had choir pieces, and Catherine had primarily instrumental pieces.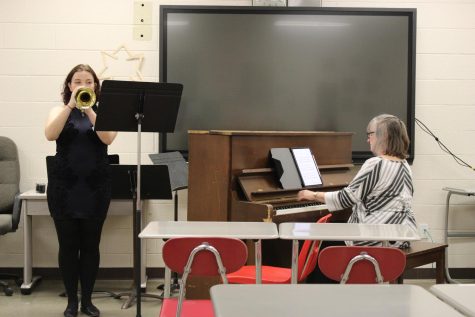 When Catherine was asked  if there was any difference between the feeling before a solo vs before an ensemble, her answer was, "I definitely felt more nervous for the solo, seeing it's just you, but it is also nice to not have to worry about other people's performances." There is much more personal pressure on your solo seeing, as she said, the whole performance is on you, and the only person to blame for mistakes is yourself. Don't worry for Catherine though, she received a perfect score on her solo performance.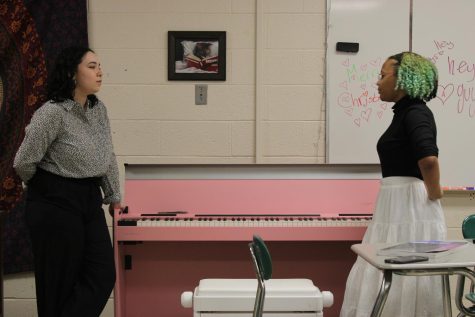 I then interviewed Riley, and when asked whether she preferred a higher score in a solo or an ensemble, she answered, "I would actually prefer a higher score in an ensemble, seeing it's much harder for a group to work well versus one person." This just goes to show that for some people that ability to work with others to achieve their goal is much more rewarding, and for some they prefer to be able to take on full responsibility for the score they earn, it truly just comes down to preference.
Either way though, Solo and Ensemble contests are often seen as the players at their finest. Whether it is a solo, duet, trio, or a full choir or instrumental orchestra, every person spends a month or more perfecting their piece and or pieces for this one performance. This can lead to a lot of stress the day of, but that is just another one of the challenges these student's face. 
Whether they are performing one piece, or the maximum, everyone brings their all, and it's shown in the results. 
This year's Solo and Ensemble, CCHS placed 6th in the state, with 6 best of day performances and 15 perfect scores. 
All of these people should be immensely proud of themselves, and so should every CCHS performer, they all truly knocked it out of the park this year.