A Not So Spectacular Senior Year 
Freshman year you're always told, "it's all worth it" once you get to your senior year. Senior year is supposed to be about wrapping up memories from the last 3 years of high school. But for the class of 2021, we aren't getting a typical senior year. When Coronavirus struck the nation, I didn't expect it to be this serious or last this long. I was looking forward to my senior year, being that I already missed out on my junior prom. My graduating doesn't get to make our farewell memories without teacher and peers. I think at this point we are all just trying to get by. For me, I'm trying to find my own ways to stay engaged and focused, because during this pandemic teens and children all around the world must learn to adjust.  
When the school year started, I was ready to be engaged and excited for my last year, ready to enjoy it with my friends. I was ready for homecoming, spirit week, and all the other perks of being a senior. I was ready to focus on what college I was going to apply to and visit. Picking out my colleges was supposed to be my biggest obstacle this year, not staying 6ft and logging onto a computer every morning. Having to learn how to adjust after 4 years of consistency is hard. For me, this year has been more about staying engaged, than actually learning. At the beginning of the year, I wasn't motivated to actually be at school, I was working two jobs barely getting any sleep. So, waking up just to stay in bed and look at a screen wasn't something I wanted to do.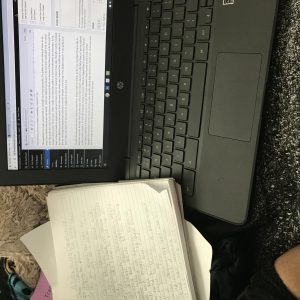 This pandemic has really messed with me mentally more than physically. I've gotten so use to being at home in my room, then outside with friends and family.  which has affected me because, I haven't been motivated with my school work. My grades this school year have been rocky from start to finish, not because I don't know how to do the work but because I don't want to do the work. I didn't really care about my grades, or how it would affect my transcript. In my head, as long as I made an appearance and got at least a D in my required classes I was okay. But after awhile I realized that wasn't affecting anyone but myself. Yeah, this wasn't the senior year I expected but I still had to make the best of it. But the one thing that sparked my motivation was the thought of not having to see CCHS anymore. I was going to be done in May. All I had to do was turn in my assignments and stick it out. 
Overall, this semester has been a learning experience, things might not always go the way you expect them to but it's about the outcome. My high school journey may not have been what I expected it to be but as long as I get my diploma in May it will be worth it. So with this semester coming to an end, I think the biggest thing I can take away is that the only person standing in between my success is myself. With next semester I hope to push myself to stay further engaged and to motivate myself, because by then 5 more months and my high school years will be over. So far now all I can do is make the best of the situation and stay focused on the outcome.