When you think of the small town of DeSoto, Illinois, you think of agriculture fields, strip cuts, and one small gas station. You know what doesn't come to mind? A giant casino in what was once a corn field. Well , now you should, because one just opened up. Walkers Bluff, a vineyard known for its extravagant tasting room and venue, recently added to its lineup a casino.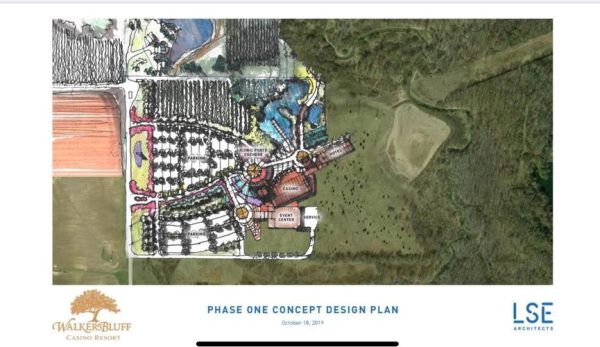 This casino brings nearly 300 jobs to a small town in Illinois and more visitors to spend money in the town. Some are extremely happy about the opening. It isn't just a Casino either; it includes a sports lounge, steakhouse, a spot for brunch, a full fledged hotel, and I even heard that they are building a waterpark on the site of the casino. I personally drove by it on opening day and the parking lot was pretty much completely full; there were also huge numbers of people wandering around.
 For a town that has so few restaurants you could count them on one hand, this casino adds a couple options to people who want to go out to eat in their town. One of the biggest upsides of the casino is it brings people from all over who have never even heard of DeSoto. They come to town and spend money, which increases the overall GDP in town. 
My Dad, a southern Illinois resident,  who isn't a big gambler. Despite this, he still had to say, "From a business standpoint, it really makes a lot of sense; there isn't any major casino within an hour or two drive from here. It will bring people from all over the neighboring towns in the area." I really agree with this statement, I have a feeling it will bring a lot of business into the town.
 Despite this, not all residents of DeSoto are happy – especially ones that live off of Reed Station, the road right next to the casino. I have witnessed how bad the traffic can get back there on the busy nights of the casino. A lot of people built houses back there to live in a secluded area in the country surrounded by farmland. Now, there are people passing their houses all day and night and the casino lighting up the skies with its bright lights. 
I asked one of my friends, Carter M., who lives off of Reed station, how he felt about the new business. He said, "I have no problem with the actual casino, I'm just not a fan of how much traffic passes since it opened." 
Even with these drawbacks, the casino is a good thing for the town of DeSoto. It will bring money, jobs, new places to eat, and lots of other good things that I think outweigh the negatives of the new business.