Insight into the life of Mr. Hansen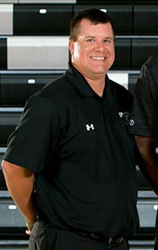 Hang on for a minute...we're trying to find some more stories you might like.
1.What motivates you personally?
"Family, doing it for my kids. It's not all about me, my kids changed my perspective. Now it's not about work or me, it's about them."
2.Who is your role model?
"My dad, he was really good at knowing how to treat with people and talk to them. He was very respected."

3.If you could say something to your young self, what would it be?
"There's a process to everything, don't assume the grass is greener on the other side."

4.What or who help you build yourself into who you are today?
"My dad, my coach Jeoff VanDeusin. And here [at CCHS], Mrs. Jones she helped me."

5. What's a hidden talent you have?
"I give out good nicknames."

6. Where do you see yourself in 20 years?
"Still coaching and teaching, hopefully travel and see my kids graduate."
7.Biggest personal accomplishment?
"My wife and kids, it always goes back to them."
8.Favorite memory while working at CCHS?
"The day I got hired in the P.E. department."
9.Were you a sports kid as a child?
"Yeah, for sure. I played soccer and golf. I was an active kid."