Día De Los Muertos (Day of the Dead) is a holiday that is typically celebrated on November 1st or 2nd. The holiday's intent is to celebrate the memory of a loved one who's passed away.  This holiday is usually celebrated by people of Hispanic descent. Día De Los Muertos can be celebrated by anyone who has lost a loved one.
 Many people make an ofrenda or altar for the person or people that they have lost. People usually decorate the ofrenda with flowers traditionally Marigolds, people believe that they attract the souls of their loved ones, traditional foods, items that remind them of their loved ones, along with a picture(s) of their loved ones. 
The International Club at Carbondale Community High School is celebrating Día De Los Muertos by creating an event for everyone in the school. Students in the club created paper flowers along with ordering skull lollipops to pass out on November 1st and 2nd.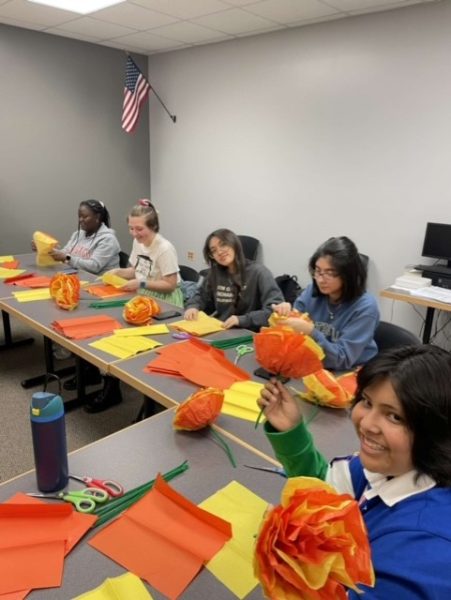 "We're going to be taking orders for sugar skulls (lollipops) and attach a paper flower to it. It's supposed to be given to your friends in a way to represent your loved ones," said club president Zeina Infante. Zeina is a Senior at CCHS and has been a part of the International Club since their Freshman/Sophomore year.
After asking them their purpose for the marigolds and why they chose to do this, they replied, "Since marigold petals are used to let the spirits in to connect with them, I want it to be a way to connect with your friends or even loved ones if you plan to give them one." This event is definitely exciting for CCHS. 
Día De Los Muertos is a time to commemorate and also celebrate the life of loved ones. To order a sugar skull and marigold for a friend or loved one you can find the International Club stand in front of the cafeteria. Then on November 1st and 2nd the sugar skulls and marigolds will be passed out.