The Walnut street entrance has been the main visitor entrance for the last few years because it's by the office, and it's where the visitor parking lot is. Security is a big part in this construction because visitors have to get buzzed in, or talk to someone and Carbondale Community High School (CCHS) didn't have that set up. At a point in time, visitors would be in the hallways with students and staff during passing periods and such. With this new entrance, it'll be a more secure and safe environment for everyone at CCHS.
Once finished, the visitors cannot go anywhere else but this confined area and the doors in front of them will be locked. There will be a secretary and staff support waiting there to help any guests. There will also be a waiting room on one side and a conference room on the other. If a parent or guardian needs to drop something off they can do so and leave, or if they need to speak with a teacher they can wait in the waiting room. If they have a meeting with someone they can do so in the conference room.
The cons of this project are waiting on it to be finished. When asked about the timeline for the project, Principal Ryan Thomas replied, "Hopefully it will be done by the second semester." This project has been talked about since pre-COVID and was started in March 2023. Another con is everyone has to come in through the Giant City entrance or side doors. A pro is that they are going to be building a giant CCHS sign that will be lit up and is gonna make it really look like a main entrance.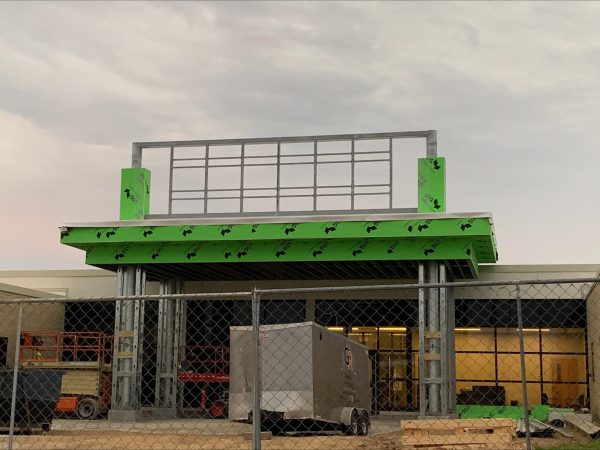 The construction doesn't just affect students, staff, and visitors, it also affects teachers in their classrooms. When questioned about the construction and how it affects those whose classrooms are around, Mr. Chris Apple answered with "The sudden loud noises cause a distraction, but students are quick to move on from the distraction." The loud sounds can be quite annoying since they start around 7:00 a.m and can last up to all day. The construction will be a huge benefit to all students, staff, and visitors who have been affected by the construction going on outside.