Prom is a once in a lifetime thing; it's something that no one wants to miss, and everyone dreams about. What did you think about when you went to your first prom? Was it the people, the experiences or maybe the regret afterwards? Today, you will be looking at three people's opinions about prom of 2023 and what they had to say about their first prom. Alongside their opinion, you will be hearing my own.
Nymea Simon is a current senior at Carbondale Community High School back then she was just a junior. Nymea had much to say about the Prom of 2023. Nymea said that prom was fine and okay; she really didn't have much beyond that. Nymea mentioned that she went with her friends and that she didn't want to go alone. 
When I asked Nymea about the food and drinks she told me, "It was mediocre and laughable." For some context, they served us Gatorade and cookies – at least, that's what Annabella William and Nymea Simon remember them having. I asked what's one thing you will always remember about that night, and she flat out said the drama. Nymea wore hot pink to Prom and, no, she wasn't matching with anyone but herself. Sadly, she wished she brought another pair of shoes because her feet were hurting in her heels. At the end of our interview, I simply asked if she was going to Prom in 2024 and she said yes because it's our last. When I brought up the price, she mentioned that she thought it was too high, but she was still going either way.
Now that we're done talking about Nymea let's talk about Annabella William, a girl in her senior year of high school and why she described the Prom of 2023 as lame. First off, she didn't say lame at least with everything that had to do with prom, just the songs. Annabella didn't like the food that much and how it was just Gatorade and cookies; she wished there were other drinks and better songs. Annabella was matching with a couple of people at prom as she was wearing black the most formal color ever. Annabella told me she has no regret and I believe her because, at the end of the night, she told me she figured out who was and who wasn't her friend, and she doesn't think she would forget that. Annabella will be going to prom in 2024 and will be going with her true friends.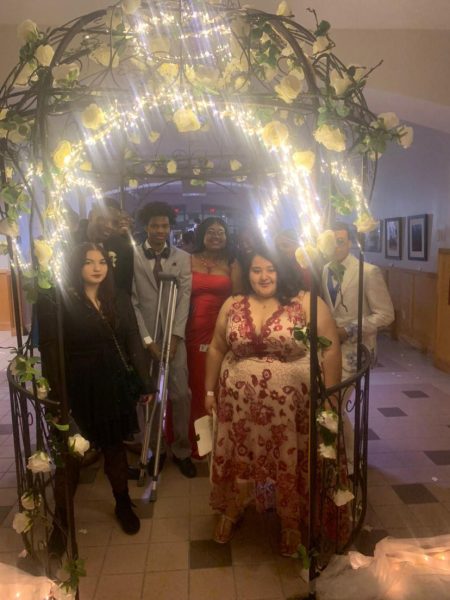 Now that you got to hear some opinions from people at the 2023 Prom, here's mine: it was like a fever dream, something you think at the time was good but in the end is just basic and average and I don't know why it was that way. It could have been my friends and how they always know how to make me feel crazy or maybe they did have Gatorade and I drank so much that I blackout. Yes, I was wearing black just with a little gold to match with my older sister. At the end of the night, I regret the people I was with because some of my friends were out of control, and I also regret forgetting everything from prom. Yes, I will go to this Prom, mostly because it's my last senior prom.
At the end of the day, prom is prom; we all want to go to prom just to have that high school prom experience and maybe that is why everyone I interviewed said that they would go to Prom in 2024 because it's their last one. Anyway, to all the junior and senior I truly hope you do go to prom so that way you can have two of the best high school memories or experiences in your life. Like just look at the photo and tell me we weren't having fun