In a huge world full of creativity, there are just some people that shine the brightest. In my ceramics class, we have someone who excels at just whatever they set their mind on doing. Meet Kara Murray, a senior at Carbondale Community High School, is a master of clay and a true artist. She shapes ugly, workable clay into magnificent pieces of art. She brings a creative touch to every creation she works on and is very careful to make the best out of every piece of clay. 
Just about every great artist has a story behind what makes them so good, whether it be finding their talent or the hard work they went through. For Murray, it seems to be a mix of both talent and hard work. When she was younger, she loved the Crayola molding clay and would play with them for hours upon hours. While playing with the molding clay, she learned how to make little pots and cups, which is the foundation for making a lot of things in ceramics.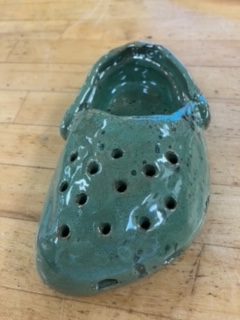 When she's working on projects, she usually likes to take things slow. First, she draws what she wants the final result to look like and then, she uses whatever technique is best for the occasion. One of her latest projects was a croc shoe which turned out really well. When asked about her thought process while making the croc, she replied with, "I didn't have one. I just wanted to do something unique and different. I originally wanted to make a high heel, but I found that making a croc would be funnier and more of a challenge." 
To Murray, ceramics class is like a sanctuary where she can find peace and let go of any stress she may have. While she would prefer having ceramics as a regular class than just an early bird, she has embraced the opportunity to be able to start her day with such positivity and focus. Murray benefits a lot from ceramics and she explains this by saying, "it benefits me by adding to my collection of homemade ceramic pieces, relieving stress, and giving me time to be social and become calmer in the morning." 
Murray is a prime example of someone who is dedicated to perfecting their craft. She has tons of experience in the art of ceramics and has a bunch of artwork laying around her house. As Murray explores more techniques and continues to test the extent of her creativity, it would be a pleasure to see how far her ceramics journey will take her.