No Tardies? – Let's Party!
Uno, raffles, cornhole, and music blasts through the cafeteria as students this year are given a whole new experience no other Carbondale Community High School classes have experienced– the Low Tardy Party.
The new incentive celebrates students who have 2 or less tardies. So, rather than sit in Terrier Time, the Positive Behavior Interventions and Supports team (PBIS) at CCHS created a celebration for students to get a break in their day, play games, talk with friends, eat snacks, and win some prizes.
CCHS faced an all time high of tardies last year after returning to a routine, straight from a year of COVID-19 chaos, which the administration expected. However, tardies are still the leading factor of referrals, even a year later.
With 1/3rd of all CCHS tardies regarding getting to 1st hour on time, the school only has so much they can do, so their focus shifted to the other 2/3rds; tardies the students get while they are already at school, thus creating the Low Tardy Parties.
The quarterly incentive aims less to encourage students to get to class on time, but rather celebrate the students who are already punctual. This not only reinstates the willingness to show up on time to the students who attend the parties, but also brings the attention to tardies to the forefront of the minds of those who don't get to celebrate.
When asked about the main purpose and effectiveness of the Low Tardy Parties, School Resource Counselor Mrs. Melinda Pierson, part of the PBIS team, described the emphasis and importance of acknowledging students who show up on time to class: "The hope is that it [the parties] would be an encouragement. But like I said, also just an acknowledgement for doing the right thing. You know there are certain things that we do to incentivize students to try and bring about good behavior, and this would certainly fit into that category.
 "But sometimes it's good to just be like;  'Hey good job! We're glad you did that! Thanks for making that effort.'" Pierson adds. "And I think that really is what the spirit of the low tardy party is about."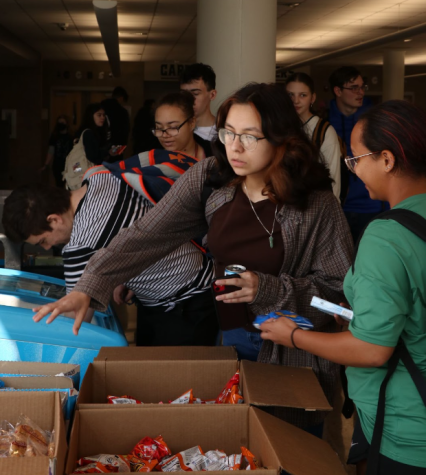 Students are excited to hang out with friends they don't have classes with and eat some food, while other students are reminded of how many tardies they have. 
The parties are only a piece of the puzzle the school as connected in the jigsaw of tardies. Since the school year began, the school has implemented many new tactics to help encourage being on time to class. This includes new digital clocks that give a countdown during the passing period, and music that blasts the halls at the last minute of the passing period to indicate to students that their time is running out to get to class.
From these implementations that encourage being on time, it is only natural to give an incentive to those who do well in an aspect that Mr. Thomas explains is expected in life.
 "… it is something to keep working on because again it is also more about, like the 20 seconds or the 40 seconds of tardiness," Thomas says. "It's about life lessons, and it's also about basic expectations. 
"If you can't follow basic 'I gotta get to class on time,' and we know things happen, gotta go to the bathroom…" Thomas added. "But the basic expectation of getting to class consistently on time, then it's really gonna be hard to meet other expectations that are maybe harder to meet."
The quarterly parties occur one week during each quarter, where classes of the same grade come together. Student feedback has shown to be quite positive, as of course no high school students will turn away time from homework in exchange for friends and food, and as the tardies have started to decline it seems the school will continue to have the Low Tardy Parties for years to come.