Fashion Design class canceled: Fitting students for failure?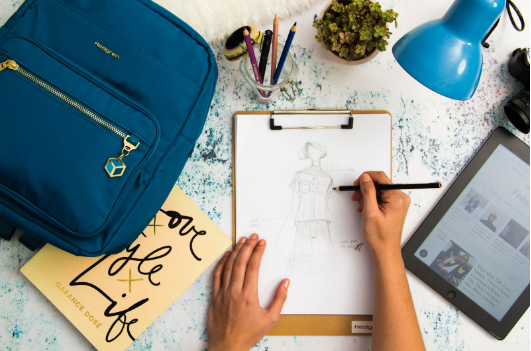 In a world full of sustainable fashion, thrifting hauls, DIYs, and endless TikTok video tutorials, fashion design is at an all time high. Therefore, it doesn't make sense that in a time where For You Pages are filled with videos of fashion tips that the source we had in school is taken away.
With over 3,000 students getting a fashion degree in 2020, and a current uptick in those numbers, along with hundreds of schools offering the degree and different programs within the major, it isn't a question that the field is growing in popularity but also in need.
The fashion class at Carbondale Community High School has a history of not occurring every single year, often alternating with Clothing 1 and Clothing 2. Therefore, it often wasn't overflowing with students, and often struggled to get enough students for the classes. However, I see the decline in numbers as more of a scheduling problem than lack of interest. With classes alternating, and only 1 of the 3 being available every so often, students can't take the class their friends recommend to them because it isn't being offered at the time for them to request it on their schedule, and by the time the class is offered they might have a full schedule or forget about the class altogether. Therefore, I think that in order to have consistent numbers, you need to have a consistent class.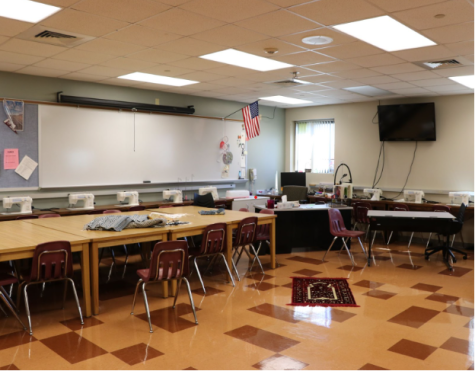 Mr. Dallas Terry, many know from their woodshop classes, has been the Career and Technical Education (CTE) Department head for 12 years, and gets his fair say in the decision making process of the CTE classes for each individual school year. 
When asked about why the class wasn't going to continue on besides the small percent of students signed up, Terry stated the Illinois Department of Employment Securities (IDES) and surroundings of Southern Illinois show a lack of job opportunities in the area to play a big role in the program's dismissal. 
"So, they break it down for regions throughout the state," Terry explains. "… They actually break down what the numbers are. How many jobs they're projecting will be out there either due to retirements, or just businesses that are expanding… I'll be honest, I had to really search. There are zero [openings] in fashion, there are some pieces in clothing construction, but there were 4 openings in that ten year span. So, I mean we want to make sure that our students are prepared, make sure that they are ready, and that they are gonna be able to go into some jobs out there. That is kind of the focus in all of our programs in CTE."
This being said, I think that canceling a class that not only teaches students the basics of fashion design, ins-and-outs of the field, and getting experience cultivating their creativity with different techniques and equipment, but it is adapting to the modern world around us and preparing us for the future. 
However, with websites like Etsy, Instagram, and Shopify, small businesses are now open to the world, creating your business storefront is simple and quick, and the buying process popular and easy. Therefore, with the work of creating a platform, advertising, designing, and making your product, teens and adults nowadays have no limits when it comes to creating their own business, especially in regards to clothing.
The article US FASHION INDUSTRY GROWTH RATE (2019–2023) by OBERLO, provides statistics about the online fashion industry.
"In terms of ecommerce sales, the US fashion industry's growth rate in 2023 is expected at 14.6%, a marginal 0.8 percentage point decrease from the 15.4% recorded in 2022. This makes it the fourth-fastest growing ecommerce category in terms of sales, after auto and parts, food and beverage, and health, personal care, and beauty."
First of all, generally, students spend the majority of their money on a handful of things: food, gas, apps, some bills, and clothes. Therefore, not only would having that could teach about upcycling, and how to upcycle clothes to fit you help create an individual sense of style and identity, but also help save the student money, as well as possibly help them make money.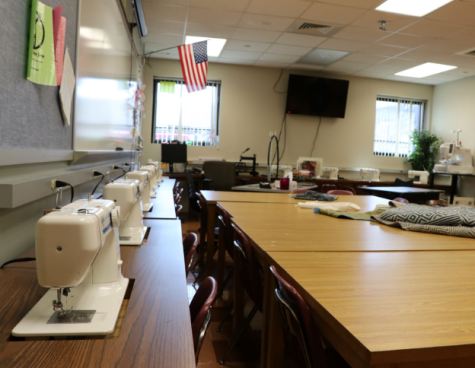 Second of all, as mentioned before it is a college major at many universities, therefore, having experience and work to show their talent could help land the student scholarships. With a class at school providing different materials, a student has access to create projects that might ultimately help them in the long run and set them apart from other students in their major.
Third of all, not only could it potentially save your student money, or earn them money online, it could also save and earn them money in the Carbondale area. With a lack of employment options and fashion specialty shops in the Southern Illinois area, your student could has a blank slate to experiment and earn money by bringing the fashion industry to Carbondale, especially in a place that lacks the stores but has a college town, therefore people from all over the world who would be used to shopping in a small business, not fast fashion store. 
Despite the facts about lack of local jobs in the area and scheduling conflicts, the future of the fashion industry, both online and in stores has a bright future, and infinite possibilities to earn money. Therefore, providing students the opportunity to cultivate their creativity in this field could be exponentially helpful not only to saving money for their future, but also teaching them, setting them up for success to make fashion their career.