Get Ready to Jam With The New Hip-Hop Class
Watch out for the new Hip-hop production class coming to Carbondale Community High School! Hip-Hop production class allows students to experience what it's like to be a music engineer, producer, and recording artist. Students work with a music software called SoundTrap, where they create their songs. As students make their songs they also learn the history of  Hip-hop from how it started and why it is the way it is now. 
Mr. Townsend who's currently teaching this class said, "I don't want to put a vision on this class because it can become so much." Townsend has really big hopes for this class and wants to see it go far.
 In this class, students will be able to meet with people that are already in the industry. I semester students were able to meet Dr. Keith Javors. He told the students about how he got into the music industry and how it's hard work.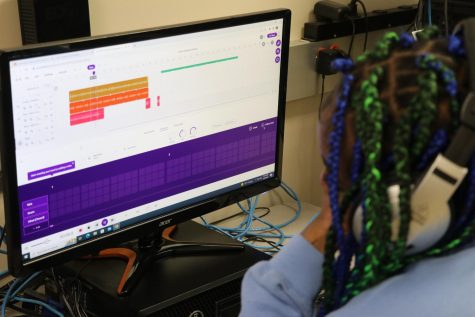 "They're already worked with the big stars and they want to help the future big stars!" Townsend exclaimed when talking about some people he wanted to bring into the class. This class has a lot of CCHS students wanting to join it. Townsend is prepared for an advanced class if it comes down to it. When asked what would be taught in the advanced class, he said, "It would be a project-based class. Students would be able to work on a specific craft like rapping, engineering, and so on." 
Townsend also informed Terrier News that, "…100% of the class said they would take it again." When the class was first introduced over 40 students signed up but only 12 got in. 
"I would love to see more class periods for this class," Mr. Graham, who has the last say with new classes explained, " I would love to see this get into the CTE side and business side of things." This class has many opportunities to become something more! A lot of staff can't wait to see where it goes. 
If you're interested in music engineering, production, or becoming a recording artist this class can and will be a great opportunity for you!