CARBONDALE HIGH SCHOOL STATE WRESTLERS!
This will probably be known as the most exciting year for the wrestling team and these three state competitors: Adien Taylor, Brendan Benz, and Isaiah Duckworth. The 3 competitors dominated their season. They're all in the 40-win club and placed at every tournament they'd wrestled this season!
Isaiah Duckworth has been on the wrestling team since he was a freshman, but he has been wrestling since he was in 5th grade.  The years of experience and competition that he has worked for the big moment state.
"My goal this season was to qualify for state and win, Which I did but it took a lot of hard work and overcoming adversity."
Isaiah Duckworth went 2-3 in the state. Well done, Isaiah!
Aiden Taylor, captain of the wrestling team, wrestled his but off all year.  Only losing 4 matches and placing top 5 every tournament. Aiden has also been wrestling since the 5th grade, too. Aiden Taylor went 2-3 also in state way to go! Aiden.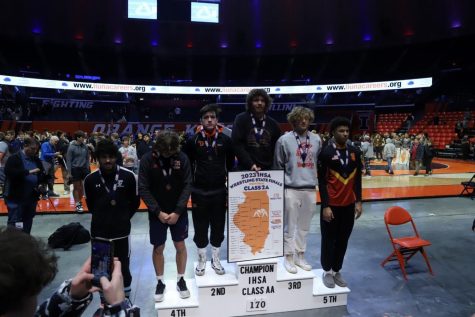 Brenden Benz the silent killer wrestled on the team his freshman year too. He also wrestled Greco and freestyle over the spring and summer. Brenden proceeded to dominate his opponents every match. His favorite move is the baby cradle. Brenden has the fastest pin of the team. Brenden proceeded to wrestle which he placed 6th in the state championship. Way to go Brenden!