The story of the eccentric talent show performance of Sam Byrd
If you asked someone that attended the most recent Terrier Talent show what the oddball performance was, they might say the solo snare performance from Sam Byrd. At last year's talent show, Sam noticed a lack of technical percussion representation and wanted to change that this year. 
Byrd, a junior here at Carbondale Community High School, has been a part of CCHS percussion since his freshman year. He also takes lessons outside of school at The Practice Pad, a local business that gives a variety of music lessons to residents of carbondale. Sam's teacher, Chad Shaffer, has been monitoring him here.
Byrd, wanting to find a piece to perform at an upcoming music competition (or better known as Solo Ensemble), had Shaffer pull some pieces for him. Through this he found the snare drum piece "Asventuras." Byrd described this piece as, "…really technical, and nerdy." He has been practicing this piece since he received it in late November. When the announcement for the talent show came up, he decided to sign up and use it as a test run for his performance.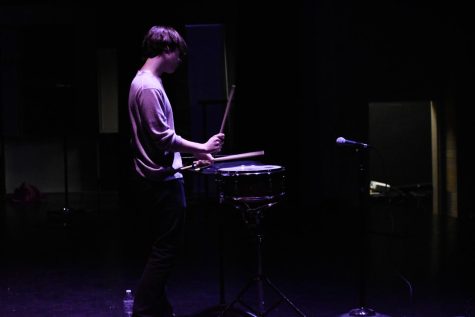 When it came to the show, Byrd had no worries about his memorization of the performance. "I've practiced it so much that it's burned in my brain." However, when it came time for the performance, misplaced equipment backstage put Byrd under pressure. With minutes to spare Byrd retrieved his music stand from the band room and ran back in time to give an entrancing performance.
When recalling the incident Byrd said, "it made me tired and I didn't want that to affect my performance." However, many could argue that when watching the performance, there was no sign of nerves.
At the end of the show the three winners were announced, and Byrd had not placed. This had not affected the percussionist, however. When asked if he had wished he had placed this is what he had to say. "I do but that wasn't the point. The point was just to show people this neat piece I've been working on." 
Sam had successfully used this show to shake off some nerves and prepare for Solo Ensemble.