Sculpting a New Class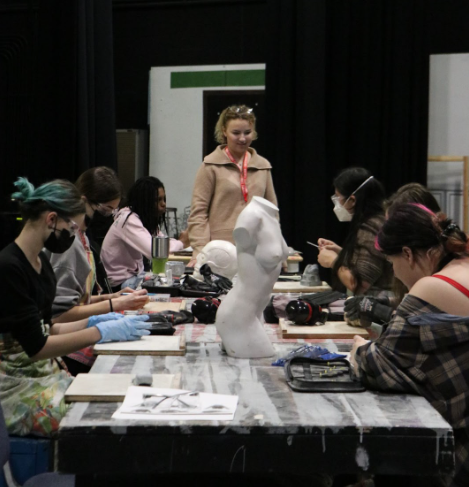 As the new year began and students returned back from the holidays, a new class met for the first time at Carbondale Community High School. The Fundamentals of Sculpting, a pilot class the first hour of the school day, meets on the stage in the auditorium where they build their classroom each day and jump right into the nitty gritty of carving their sculptures. 
Levi Biedermann, many know and love from their photography or basic art class, leads the new addition to the art department with zeal and enthusiasm to bring a new form of art to the front of many students' schedules, in an effort to share his lifelong passion with the next generation. 
From his 10 years of teaching experience in over 7 schools, Bidermann dreamed of founding and teaching a Sculpture class. Truly believing the benefits and importance of the arts, he knows that having a class in the particular field will impact the students for the better.
"I think that it is beneficial in so many different ways, it's a huge list," Bidermann states. "Your fine motor skills, your gross motor skills, your creative problem solving skills, your confidence, your ability to think creatively, to see a challenge, and challenge yourself… It's a studio environment, it isn't like any of those academic classes where you sit at your desk and you do your work and listen to a lecture, it's so much more involved and collaborative."
Fortunately, he got his chance after 3 years of teaching at CCHS. 
With a singular Fine Arts credit as a graduation requirement, students are forced to explore one field of art. However, in most cases, students go on to exceed the requirement due to their experiences and options at the school.
Therefore, while there wasn't a particular petition for a Sculpture class, it wasn't difficult to fill the pilot group due to recommendations by art teachers and interest from the course selection class summary.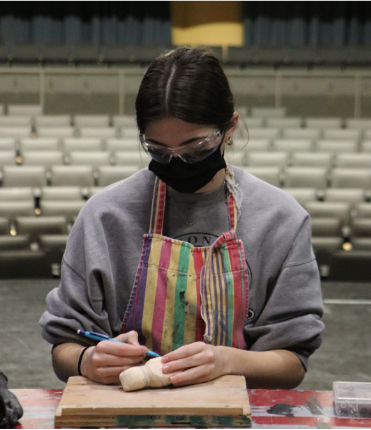 The classes seen in these guides aren't easily created. Each class is drawn up, met about with the department head, Principal, Superintendent, and instructor to then agree upon taking the idea to the school board. After such a plan is made, the class must set up a curriculum and meet with the curriculum director after which, the school board hopefully hopes on board. From there on, the future of the class can only be guessed.
When asked about judging the success of a class, Principal Ryan Thomas explains, "There is not a rating scale or any formal process or procedure to measure success…I would deem it a success if it was enough students for another section or another semester next year, and it would really be a success if it was enough for 2 or 3 or 4 sections. So, the judgment is: does the instructor and the department think the course is going well and do the students want to take the course."
However, although student demand might be high, the next obstacle was the curriculum. 
Curriculum creation for art classes varies from a usual core class, especially with a specific concentration such as Sculpture. Therefore, Bidermann was put to the test to come up with an interesting and hands-on yet realistic curriculum for the first class. Pulling from every Sculpture class he has taken, Bidermann decided on a curriculum that followed the evolution of Sculpture over the years, beginning with subtractive sculpture.
With the goal to then explore additive and fabricated sculpture, the class is coming to an end on their first project of sculpting from either wood, plater, or soapstone. Students suit up from head to toe in protective gear as they sand, chisel, saw, and use power tools to make their sketches come to life. 
Student Ryan Hawk expressed eagerness towards the class's curriculum. While the Senior wished the class was created earlier in his high school career, Hawk recommends the class for all other CCHS and incoming Terriers.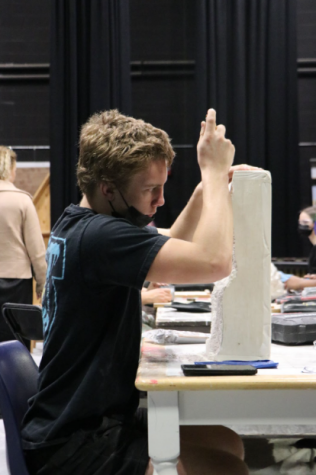 "Yes, 100%,.." Hawk replies in response to the Sculpture recommendation. "And so this is gonna sound weird until you actually do it…but whenever you are sculpting, you feel your sculpture, like you put your emotions for that day into your sculpture… I think it is an amazing opportunity for Terriers to refine who they are, or figure out things they don't know about themselves."
While the recommendations seem as though they could be awarded to any art class, Sculpture has found itself to be a completely new experience, even to students who have seemingly taken advantage of all the school's art opportunities.
Many students in the class described the excitement of working with a 3 dimensional form of art, as more visual challenges are introduced. 
While it may feel similar to Ceramics, Sculpture gives more options of materials, tools, and creative freedom to the students, while also mixing critiques, notes, and teamwork into the mix as well.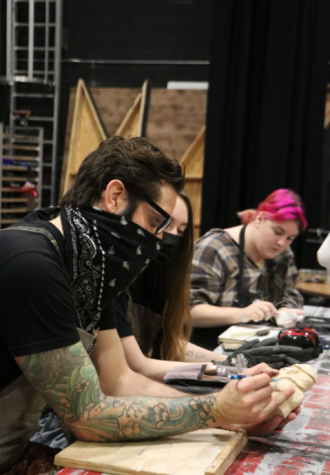 Nita Wougamon, a freshman, discussed her enthusiasm for getting to be in the first Sculpture class at CCHS, and the appealing nature of trying something new and different, especially outside of core classes at high school.
"I think it has been really helpful for getting to see a bunch of different techniques and getting to know a bunch of things for art." 
Students are learning the techniques in hands-on assignments, offering a much needed break from technology used in almost every core class, and some art classes. This provides students with a whole new perspective from art that they may find is more suitable to them.
Future plans show the class working on a large-scale group project. They hope this task would be a permanent fixture in the school. This not only would leave their own mark on the school, but also inspire current and future Terriers to create their own art. However, Bidermann now solely relies on positive word of mouth recommendations, and the course selection book for the pilot class to lead take flight and the future of Sculpture to soar.