Carbondale vs. Marion Boys Basketball Game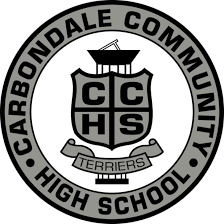 On Friday, December 9th the Carbondale Terriers boys basketball team played  the Marion wildcats. The game was very intense. Both teams played very well, however the Terriers unfortunately lost by 2, the final score being 50-52. 
At the beginning of the game the Terriers were up, score after score, but towards the end the Wildcats did catch up. Emotions were very high throughout the entire game, there was a lot of tension between both sides, including from the players and the supporters. 
Student who attended the game, Jahzara Jackson states that she felt that "the Wildcats cheated, and they injured our good players." She feels that the game was very unfair and the refs did not do their job well. 
Basketball player Jeremiah Tate who played in the game all the way up until he was hurt. "I was disappointed in my team as a whole." He states, he claims they feel they could have played better. He claims that even though they did try, there were better ways they could have played. 
Another student Janelle Thompson says she felt the other team cheated. "The refs were very unfair and were not calling fouls as they should have." She said she was very proud of the team as  whole for not giving up when it got difficult. She felt that the Terriers were not treated fairly by the refs or in general. "It was very intense throughout the entire game, especially towards the end." 
The game did go into overtime but the Terriers unfortunately did not win, however they tried their best and that is all that matters. We hope to win at the next game.