FCCLA Club
Here at Carbondale Community High School we offer a large variety of clubs, but one of the most active clubs is commonly unknown; FCCLA. FCCLA, or Family, Career and Community Leaders of America is a club invested in community service and creating future leaders, especially those interested in the education and culinary fields.
At CCHS, the club goes on various field trips throughout the year consisting of conferences for all clubs in the district, as well as fun outings for the group, like the yearly trip to Lambert's Cafe in Sikeston. 
While there are always interesting events happening within the club, this year brought on something different, a new sponsor. Mrs Dana Cox-Lipe is a new teacher at CCHS and is working as the new Foods and Culinary instructor. While she originally did not know that she would be placed as the new sponsor for the club, she revealed, "It only makes sense for me to take the position."
Not only did Mrs. Lipe not initially know she of the position she would be obtaining, at first, she didn't understand what the club was all about, " When I first heard of FCCLA, I was under the impression that it was primarily a way for schools with Family and Consumer Science to showcase their programs and an opportunity for FACS students to share their creative applications of the knowledge and skills they acquired in those classes(via conferences and competitions).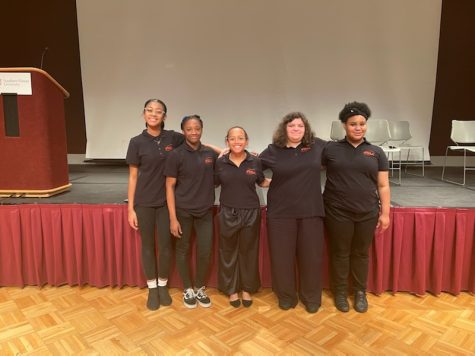 "FCCLA certainly provides those platforms for students to demonstrate their learning at local, state, and national events, but it is also an organization rooted in contributing to one's community."
While there is a new sponsor this year, the club's other sponsor is well-known around the school, Mrs Rasheeda Love. Mrs. Lover has had plenty of experience within FCCLA, "My experience with FCCLA has been eye opening, yet rewarding. To be in a position to make a huge impact on our future leaders, while being challenged and made better by them daily is such a reward." 
Like other clubs and organizations FCCLA has many values and opportunities, but the club is certainly unique," FCCLA is a club that is centered around family and community which are key components that help our world and society as a whole. To be able to develop and create leaders who will directly affect every aspect of those entities is amazing!"
FCCLA is always welcome to new members and is definitely a great club to keep on your radar.
If you have any questions about the club please feel free to reach out to Mrs Rasheeda Love or Mrs Dana Cox-Lipe.