What It Takes for a School Counselor to Set Up College Visits
Class counselors at Carbondale Community High School have full schedules, but a large portion of the time goes toward planning college visits.
"Typically, twenty rep visits have already been done, or will be done," Lyndsey Walls, the class of 2023 counselor, reveals. While a number as high as twenty may lead to believing that  the process of setting up college visits is all smooth-sailing, that is not always the case. "Typically, we are at the mercy of the institution. Some are pretty timely and others are last minute."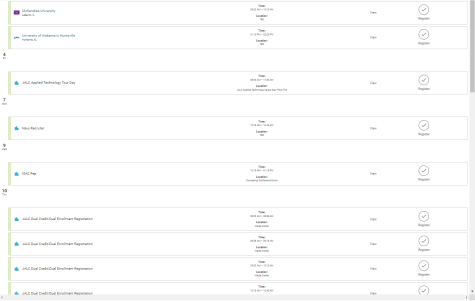 The amount of time it takes to set up the visit is not the only barrier though, deciding which universities to partner with and whether they send a rep to the school or the interested students visit the institute during a school day is a factor as well. "We go to regional schools, they target our students. Schools further away target their regional schools. With us being a larger school, more universities will reach out to us."
The representatives from the universities make appointments to come to the high school, in a similar fashion as the students sign up to attend through SCOIR. While SCOIR acts as a platform for students, there is another side of it that only the counselor sees.
"Through SCOIR, [the representatives] go to the calendar to set up dates…" Walls explains. When plans fall through, representatives can, "…reschedule to a day that works for them." 
When the plan is made for the students to visit the institution the preparation varies greatly, "Majority of work for field trips depends on what the institution wants from the students before visiting."
For more information or if you have any questions you can contact your class counselor via the school's counseling department page.