Powder Puff is a Fun Tradition that is Worth Keeping Around
Carbondale Community High School held their yearly Powder Puff football game on Wednesday, September 28th. Powder Puff is an opportunity for girls to play football and for the boys to do cheerleading.
 This game allows people who are normally not involved in extracurricular activities to have fun and get involved, which is why I feel it is worth having. My general consensus is that the purpose of Powder Puff is not only to let people get involved and to provide entertainment for not only themselves and other students, but for the community to have a fun event to attend as well.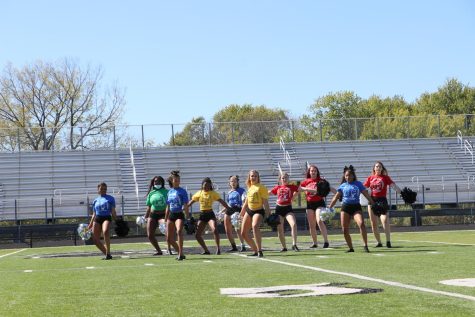 Eden Reinier, a senior who played in the game this year, had some opinions of her own: "It's a way to show school spirit," she expressed. "I think it's for seniors, so they can have one last 'bang' before they leave. It's also for girls to have the chance to play football because we don't have a girl's team". 
Eden had a very good point, the school spirit aspect is something that is looked over; many of the people who sign up to play for Powder Puff are the same people who dress out for the spirit week dress-up themes.
The excitement surrounding Powder Puff is an energy that is unlike any other school-held event. It is different from the energy around Friday night football games or pajama day; Eden's excitement is the perfect one:"It's exciting for the players because women aren't typically included in football. And, you get to win!"
While some see Powder Puff as an event with no seriousness of intensity behind it, others, like Eden, seem to have found a deeper meaning for it: "Right now it's just a school spirit competition thing,  but in the long run it may bring attention to the fact that girls can play football too; which is really awesome!" 
Eden's viewpoint is a totally different perspective, that I believe completely supports the idea of Powder Puff not only being worth keeping, but potentially receiving a permanent spot on the extracurricular roster. 
The entertainment factor and participation that the game brings makes the Powder Puff experience worth keeping around.