Seniors Win Yet Again
The Pep Rally is a time honored tradition that classes participate in year after year. To begin, the band plays our fabulous Fight Song, after they exit the field we have our cheerleaders making a grand entrance with an intricate routine.
As always, the class competition starts with the shopping cart race, which has been decorated by their respected class. This year, the seniors won both the race and the decorating competition. 
Next is the hall decorating, which happens over the course of a week. This year, the privilege of winning went to the Juniors.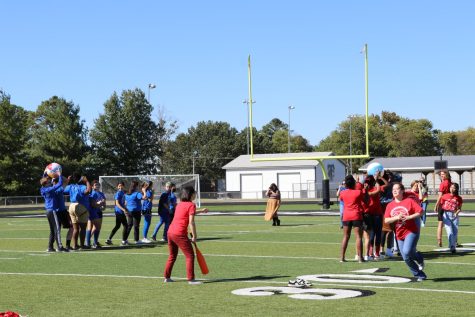 Next up is the relay race which consists of beach ball pass, dizzy quick change, junk in the trunk, rubber band shooting range, shoe flick, dunk tank, and cart relay.
The winner of the spirit stick was the Seniors. When asked why he thought the seniors won, senior Laith Khader stated, "We won because the Juniors suck."
For the grand finale, we introduce the homecoming court. For 9th grade, we have Zaqqarie Hamilton, Shelby Kraus, Janiyah Richardson, Mikaden Greene, Bradyn Schimpf, and Money Walker. 
Our 10th grade court is Jasmine Martin, Candice Swope, Miana Tarver, Antonio Ancell, Nickerion Brown, and Thomas Imboden. 
For the 11th grade, we have Jada Bradley, Jordan Grubbs, Skylar Moore, Henry Harsy, Lucas Stoke, and Zane Williard. 
Homecoming King candidates were Cooper Brown, Christopher Burnside, Ian Davis, Ahmed Hindi, Aiden Taylor, and Dow White. 
Homecoming Queen candidates were Amira Alkhatim, Emma Bickel, Ariel Lipe, Clare Meadows, Madyson Swope, and Annabella Upton. 
The homecoming Queen and King this year are Ahmed Hindi and Madyson Swope.