Why You Should Take Dual Credit Math
Should I take Statistics and Contemporary Math in high school? This is a question that you might be asking yourself if you are a junior or senior. The answer to that is YES! The class is offered during 1st, 3rd and 6th hour here at Carbondale Community High School, and there are so many benefits to taking it. 
These courses are split into two semesters. Statistics is a first semester class, and Contemporary Math is a second semester class. Both of these classes are dual credit, worth 3 credit hours each. They are transferable to any college or university, and they will satisfy the core curriculum math requirement for most degrees. Because of this, if you are not planning to go into a profession that requires calculus I highly recommend taking this dual credit class.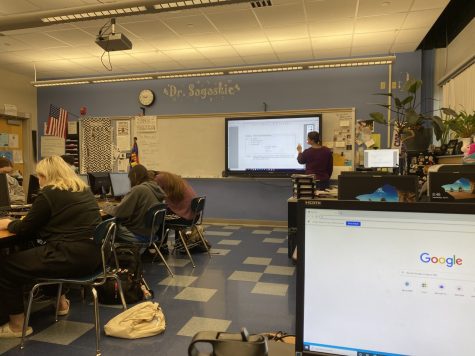 As someone who has never liked taking math, I could not be happier that I am taking this class now. I have met many college students through jobs who are also taking statistics at their Universities and have had to re-take them due to the difficulty. Math has never been my strong suit but these classes are so different from anything else I had done before; that I was able to end the class with a B, and that is due to the amazing statistics teacher Dr. Erin Sagaskie.
Because I am planning on going to a four year university, I think that taking this class is helping me slowly prepare myself for what college level courses are like and the effort that it takes. If you are anything like me, and get hungry in your classes Dr.Sagaskie always has snacks available for the class, which makes everything better. You won't see that in college, but if you take the class now, you will. 
 "The advantages of taking dual credit classes are many. They are free, students get more help to pass the classes because they get significantly more contact hours (about 40 more contact hours) with an instructor (me), and I give them more resources to be successful." Stated Dr.Sagaskie
I won't tell you that the class is a "walk in the park," but life is not supposed to be like that. It will challenge you but it will also help you grow as a student. As Dr.Sagaskie stated, she truly gives me and everyone else all the tools we could need to do well and she is always open to do zoom calls after school hours whenever we need some extra help. Taking these classes your senior year is a MUST in my opinion, so if you have not signed up for it yet don't walk. but RUN to your counselor and get signed up. You will not regret it.