Tres Hombres Open Mic
Every Tuesday at Tres Hombres, musicians fill the air with rich, diverse performances. Held on the patio, when weather allows, or on a small stage in the restaurant's bar, open mic is a night for musicians to share their talents with others.
The event is co-hosted by Nathan Graham and Stick Gilbert. The night wouldn't be possible without Graham's many contributions, which include setting up equipment, running sound, and performing/accompanying others on bass, guitar, and vocals. Gilbert brings energy, positivity, and encouragement to the space, as well as various amazing drum beats.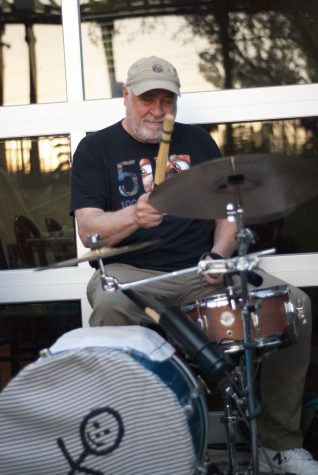 Anyone is welcome to participate! As musician Rick Droit claims, "This community is very supportive of musicians of all walks of life." After each song, the audience's support sounds through the rounds of applause, as well as complimenting words after performers have left the stage. Musician Colleen Springer comments, "Open mic is a place and a space to be listened to compassionately. It's about sharing and supporting, not competing and comparing."
Many musicians attend open mic night on a regular weekly basis. Because of this, many of them have formed relationships and deep connections with each other. Gilbert states, "They are way more than friends. They treat each other like family. Everybody respects everybody."
Open mic provides many opportunities to those who participate. As Graham says, "The open mic community is a great way for everyone to get together weekly to work out songs, meet other local musicians, and for folks to try playing in front of people, often for the first time."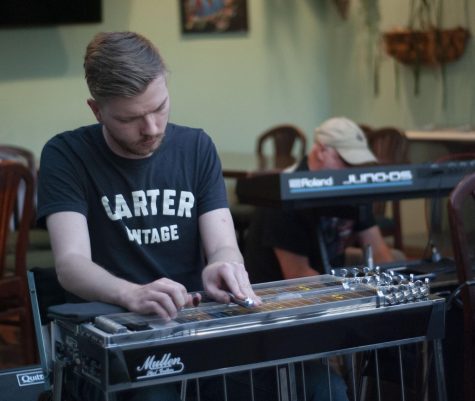 To participate, all you have to do is write your name on a sign-up sheet. When it's your time to perform, you can play up to four songs. Recently, performances have started at 6, but occasionally they will start later at 8. 
During the pandemic, Tres open mic turned into Carbondale Closed Mic. Every week musicians recorded music videos and posted them on Facebook. Musician Lew Hendrix explains, " Closed mic nights [were] intended to raise money for worthy local causes, charitable groups, or families and individuals in need." Donations could be made using the GoFundMe link attached to every video. Every two weeks the contributions were given in support of a new cause. Carbondale Closed Mic was a way for musicians to safely share their music with others, and it successfully raised money for several great causes. 
If you are ever free on a Tuesday night, head over to Tres Hombres for food and a variety of music at open mic.