Inaugural Carbondale Community High School Job Fair 
Over the past few years the workforce has had an extreme lack of employees. Due to this, the Carbondale Chamber Economic Development Committee initiated the first Carbondale Community High School (CCHS) Job Fair, on Wednesday March 30th from 10-3pm, with the hopes of it becoming an annual event. 
This event is a good opportunity for both students and employers to help grow the workforce. 
Over the past few weeks Mr. Dallas Terry, the CTE Department Head, and Lori Koester head of the Counseling Department have facilitated four Job Fair workshops on Tuesdays during the High Schools "SSR," helping students prepare for the Job Fair.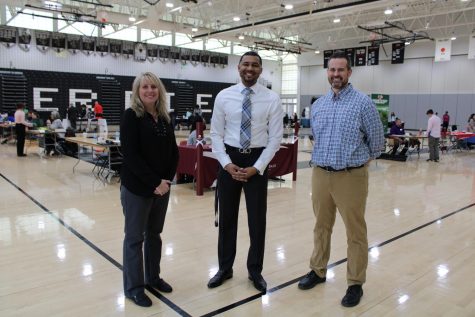 "We are concerned about the current workforce issues that most businesses are experiencing, to address this concern we are working with CCHS to create a job fair for High School students." Stated the Carbondale Chamber Economic Development Committee. 
The job fair will have 18 different stores, businesses and restaurants available for students to see. There will be a lot of variety in the jobs so that most students will hopefully be able to find something that fits their interest. Some of these job opportunities include working at the Neighborhood Coop, Warehouse Ultimate Gym, and Quatros Pizza. 
"This is a great opportunity for our students to get exposed to what the workforce looks like and start thinking about what they want to do in their futures." said Lori Koester, the head of the Counseling Department. 
The Job Fair will be split up into two sections. The first part of the day will be from 10am to Noon, where employers will have the chance to meet with students, answer any questions they  may have and pass out applications while also having time to receive resumes and cover letters from students. 
During the afternoon session of this event, (1-3pm) the employers will be given the time to interview any students they think would be a good fit for openings that accommodate students' schedules. However, employers are looking for students who are willing to work throughout the school year and during spring break, so students will have to be prepared to also accommodate the needs of the employers.