Carbondale Baseball Team Gets Long-Awaited Turf Infield
For many years the Carbondale High School baseball team has been plagued by a bumpy, patchy, and overall unfortunate infield. When the field was redone some 20 years ago, it was one of the nicest in the area. However maintenance was not kept up as it should've been. Over the years the field slowly declined. Less and less rain was needed to make it unplayable. The grass infield became bumpier and bumpier. The lip from the grass to dirt became dangerous, with hard hit balls taking unpredictable bounces. For years, the program has been promised a turf infield, but year after year the money never showed up. Well, in the fall of 2021 a construction crew broke ground on the varsity field in the Super Block.  For weeks, no one was sure when the field would be done, concerns rose that the home opener would have to be played on the JV field. However, after months of work, and just in time for the 2022 season, the field was completed. Morale is up within the Carbondale baseball team after their concerns about being able to play on the field were put to rest.
"I think we're motivated to work harder now, it's certainly more fun to play on such a nice field," said team captain Eli Dyer. After a less-than-great season in 2021, with COVID shortening the season and causing troubles throughout the season, the team is excited to be back to normal. 
"I'm really excited for the season, this turf will make fielding so much easier, because there will be no bad hops," said senior shortstop Tommy Rushing. Carbondale got just two practices on the finished turf before their first game, but they had no worries.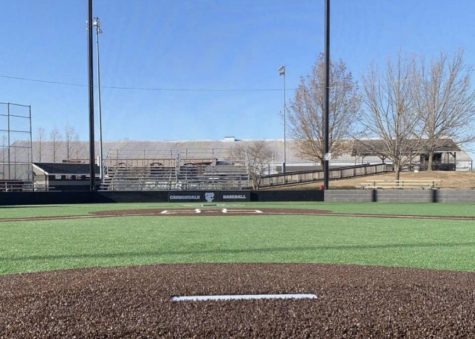 "I have no concerns, sure we lack practice, but we have a smart defense. I know they can adapt quickly," said Eli Dyer before the home opener on March 14th. Eli started the game on the mound, and turned out to be correct as Carbondale went on to beat Trico 11-0 in 5 innings behind Dyer's 4 innings of no hit ball. It looks as though good things may be to come for the Carbondale baseball program. They have a nice field for the team this year, and for the teams for years to come. This new field is sure to provide a lot of confidence for infielders who previously worried about those horrible "Carbondale hops" causing a trip to a dentist.