CCHS Girls Track Team Has a Rough Start with 'A Lot of Potential'
On Friday, March 4th, Carbondale Community High Schools Girls Track Team officially kicked off the season participating in the SIU High School Indoor Meet. Hosted at SIU's Recreational indoor track.
 Nearly 30 schools from around the Southern Illinois area came to compete. This was the girls distance runners second indoor meet of the season. For the sprinters this was their first meet of the season.
The CCHS Girls Track Team of more than 15 girls which consists of many newcomers who are inexperienced and fresh out of the water. Even so, Coach Jason Perry is optimistic. "And with us being a young team again, a young and inexperienced team, these last few years we haven't had very many runners at all on the girls' side.  So, who knows what's gonna happen, we have a lot of potential, let's see where we go with it." 
Coach Perry has been coaching track for three seasons, although the previous seasons were abbreviated due to the coronavirus pandemic. In contrast, head coach, Greg Storm has been coaching or involved in some way for 11 years.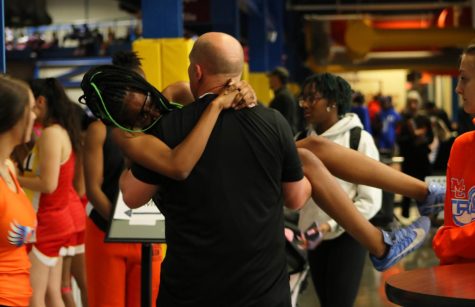 This meet had various different events ranging from shot put to the 4 x 800m race.  Sophomore Aniyah Miller had a rough pass off in the 4 x 200m relay due to an injury that occurred while she was running leaving her temporarily incapacitated. The team was last place in their heat with a time of 2:07.72. Resulting in their placement of 20th place.  
The distance runners ran various races with two of our runners coming in 5th and 6th place for the 800m race.  Oliva Buffington came in 6th with a time of 2:44.62 and Eislee Moore coming in just ahead at 2:41.17.
CCHS has one girl who participates in shot put, Madyson Swope. Swope placed 6th with a distance of 10.62m.
Overall, this meet was a great learning experience for the girls which was exactly what the coaches expected.  When asked how he felt about the outcomes of the meet Storm replied:
" I feel the outcome for the meet is exactly what we were looking for.  It was a great opportunity to get valuable experience being in a meet and competing against other people.  We have been training for about 3 weeks before that and you just can't simulate what you can feel in a live track meet. "
Eager to learn and move forward, the team is excited to travel to Kentucky for their next meet.