Senior Spirit
At Carbondale Community High School, we take our spirit weeks pretty seriously. Even more so, the Seniors tend to take it all the way home. Whether it's the hallway decorating, the cart races, etc, the seniors know how to do it right. Throughout the week, the classes are all four tasked with decorating their respective hallways in competition with one another, dress up according to the theme of each day, all while preparing for the pep rally at the end of homecoming week. All four grades are in competition throughout homecoming week to receive the spirit stick which wins them both bragging rights and a pizza party. 
The hallway decorating is arguably one of the most fun, yet one of the most tedious tasks that someone can complete. However it is in fact the most important spirit week task in respect to point value. Naturally, the seniors dominated this task, as we should. 
When interviewing Senior, Auriel Prepejchal, about her thoughts on hallway decorating, she told me, "It was both one of the most difficult and fun times of the week. It was a rush to complete it on time, and also a rush to beat the Juniors, who were our closest competition of the rest of the classes. Our hallway looked really good, and I was proud of what our decorating team accomplished." Auriel worked on the hallway almost every day of that week/weekend and told me, "A lot more work goes into decorating the hallways than what people think. That's why it is worth the most points for the spirit stick which we rightfully won." 
Arguably the most exciting of the spirit week activities is the Cart Races. This is a shopping cart relay race in which the classes compete with each other. The way it works is, someone sits inside the cart, someone pushes, and they both switch off at a set of 4 checkpoints. Again, the seniors absolutely dominated in this event. There was zero competition.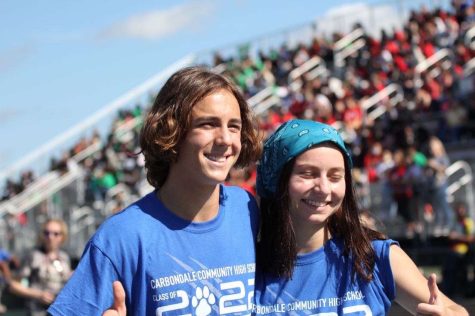 Nathan Torres, also a senior, describes the event as an "Easy dub". Torres says, "After the first quarter of the race, we knew we were going to win. We were closing in on the second changeover when the other teams were just getting to or just leaving the first changeover. In other words, we understood the assignment." 
Seniors will enjoy a school provided pizza lunch at the giant city walkway on Friday, October 15, 2021. Each senior is eligible for one free slice of pizza and one free soda. Great job seniors! Way to close out your high school experience!