The New Silent Sustained Reading at Carbondale Community High School
Silent Sustained Reading has taken a turn for the better this recent 2021 and 2022 school year.
During past years, students were forced to read during SSR, but that came with a lot of complaints. Lots of students never actually have time to work on their homework at home because of outside commitments, like jobs or clubs, or even because of a difficult family life. Being made to read during the period when that time could be used for important work is why students have so many issues with the past SSR.
However, despite that the old SSR was useless, there are teachers who think that it was the opposite for students.
One of these teachers is Lindsey Sears, an English teacher at Carbondale Community High School.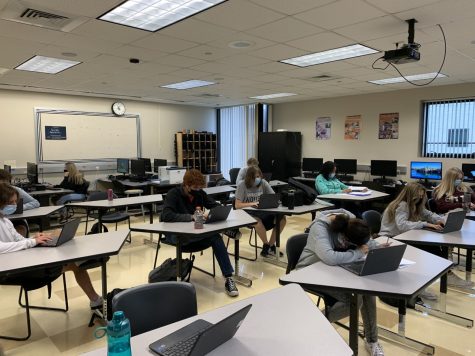 "I will admit that I do miss the original SSR where students were expected to read, because many students have chaotic lives and don't have the opportunities to read outside of school," Sears explains. "We thought that by giving them inside school time to read, it would help students read more by giving them time they lack outside of school."
Many in the English department at this high school believe that restricting the time only to reading would be beneficial to students.
In contrast, the new SSR can include reading if the student so wishes. Not only that, but homework mostly always includes reading of some sort.
Plus, the choice of being able to read or being able to do work that they might not have time to do has many positives.
One of the positives from having time to do homework instead of being restricted to read is that students can raise their grades by reducing the late work that is being turned in. Teachers can watch the students to make sure they are doing work of some kind to reduce the possibility that they will slack off to be on their phones instead, for example.
Another positive is that there would be less stress involved for the student. The sooner they get the work done, the less they must worry about later. That will also improve the quality of the work turned in.
Overall, the new Silent Sustained Reading that allows the students at Carbondale Community High school to work on what they need to work on is the way to go.