Small Thrift Shop has Big Impact on the Local Community
If you have ever driven on Route 51 towards DeSoto you probably have passed by a quaint thrift-store without realizing it. The Thrift Shop is located on N Illinois Ave by the hospital . It was founded in 1966 and has since impacted the local community due to its low prices and being able to stay open throughout the years.
Amira Ruperto is a recurring customer because she finds the shop to be helpful to the community, "It [The Thrift Shop] impacts our community by giving people a place to shop where it is affordable,"
Many stores often overprice their items just for a profit while The Thrift Shop focuses on being able to provide clothes and items for others with a reasonable price. People from lower income families also have the ability to buy multiple pieces of clothing in good condition for the same price of just one article of clothing. 
Being in business for more than half a century, The Thrift Shop has helped mold the local community . Not many places in Carbondale have been able to stay open for that long, especially a local business. Many businesses either get run out of town by chain stores or simply cannot find a crowd to buy their product.
Ruperto believes that having businesses like The Thrift Shop is what keeps Carbondale's local community thriving, "I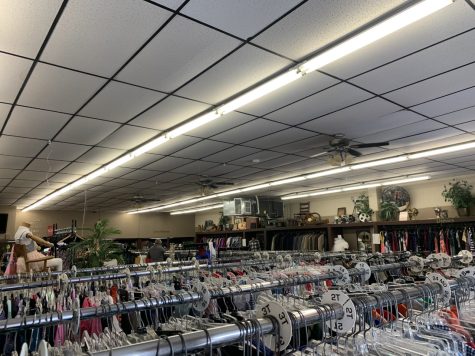 believe that it [The Thrift Shop] is important for the local community because of how long it has been here. This store [The Thrift Shop] is what gives Carbondale its uniqueness and charm,"
Now The Thrift Shop isn't the only thrift store in Carbondale. There are a total of 4 thrift stores including Goodwill, Renew, and Tropicana. Many people feel that thrift stores basically sell the same stuff and that most stores have very little difference but not The Thrift Shop. The store is a slice of Carbondale through the clothing. 
Ruperto also believes that the type of clothing sold in the store is what separates The Thrift Shop from others, "Its [The Thrift Shop] clothing is very closely related to life in the local community. You see shirts that only people from the local community would know or understand,"
The Thrift Shop is a piece of Carbondale that impacts the local community through its reasonable prices and for how long it has been in use for the community. Even though there are other competitors within the community, The Thrift Shop will continue to keep the taste of Carbondale at an affordable price.