Carbondale Community High School Marching Band Makes a Return
The Carbondale Community High School's marching band had been out of commission since the fall of 2020 because of Covid-19. However, they have finally made a return with their new show "21st Century Diva." 
The field show features the songs "New Rules," "Don't Start Now," "Levitating," and "Physical" all by famous pop star Dua Lipa.  
"The music is good, I like Dua Lipa, but I wish it had an actual story to it," Giifti Benti, the piccolo player in the band, explains.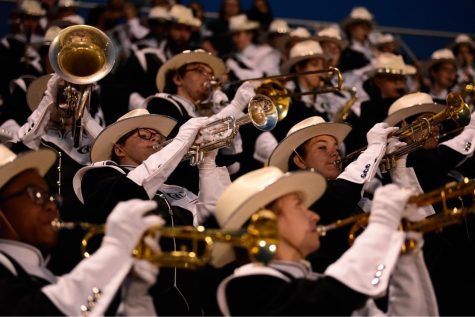 There isn't a story like there was with the old Snarky Puppy or Firebird, two old shows that the Marching Terriers have done. This is because a lot of challenges came with Covid-19, meaning that the show is simpler this year.       
One of these challenges is the number of new marchers that have entered the band. Usually, it is just freshmen, but this year there are both freshmen and sophomores that are not familiar with marching and have never done a field show before. However, the junior and senior band members, colorguard, and drum majors have been able to step up and teach the rookies what they need to know.
"I will say at the beginning of the season… most of our section leaders and leadership position people in general only had two years of band and then [they] were coming up as seniors and had all these pressures and responsibilities put on [them], so definitely there was not as strong as leadership as I experienced when I was a freshman and sophomore…" Grace Park, head drum major, said. "However, as the season went by, it was really great because I saw my friends and section leaders step up and become great leaders."
The band went back into action in early August when they had 1 week of band camp where band director Gregory Townsend decided to focus on teaching basics to the rookies. This is because the Carbondale Marching Terriers were not only doing a field show, but they were also being enrolled into multiple parade competitions.
Covid-19 has affected the band in some capacity, like needing to wear a mask when playing inside, but other than that, the band has been able to easily overcome the difficulties with this pandemic during the 2021 marching season.
Currently, they still have the SIU Homecoming Parade and 3 home football games left. Come support your local Marching Terriers!