CCHS Makers Club: What Is It?
About the Makers Club and their prosthetic hand
On September 30, 2021, there was a club meeting held for the Carbondale Community Highschool's Maker Club. At this meeting, members discussed different events and projects in the near future. Don Moberly, the club's sponsor and CCHS Engineering teacher, was present and had a lot of new information to share. He has been the sponsor of the Makers Club since the club was started and loves seeing the interest and excitement in the club. Moberly takes pride in sponsoring this club as the idea of the club is "right up the alley" of the classes that he teaches.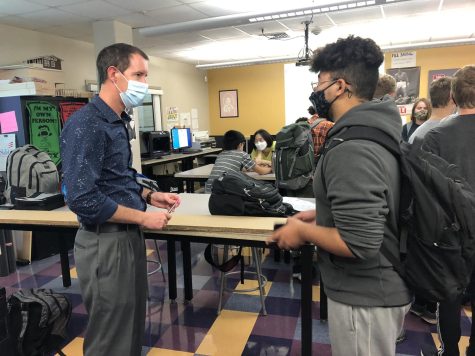 When the idea of a Makers Club was presented to Moberly, he said, "I just couldn't pass that up, I thought, 'Man, how awesome would that be, students could come out and be so supportive of other people, having brand new ideas and encouraging not just those ideas, but also collaboration.'" The plans the club has for projects coming up really do show how the club implements collaboration and teamwork into the things it does.
One club officer, Jay Lee, who originally suggested the idea to Moberly, talked a bit about one of the most interesting projects coming up, the club paired with e-NABLE to be able to soon start 3D printing prosthetic hands. Jay said he and his other club officers were looking for a good project to do that would benefit others while giving the club something meaningful to do. They thought this would be a good idea since this is something that benefits a lot of people who have lost their hand(s) since the 3D printed hand is, "cheap in price, the quality is actually… from what [Jay has] seen, pretty good for its price. The best thing about it is that all the files are online and free as long as you have been approved by e-NABLE." Each of these hands are built with parts 3D printed in Moberly's classroom and a hardware kit that costs around $30. Once the hand is built and approved by the company, it will be sent out to someone who is in need of a prosthetic hand.