Should Campuses Open Back Up In The Fall?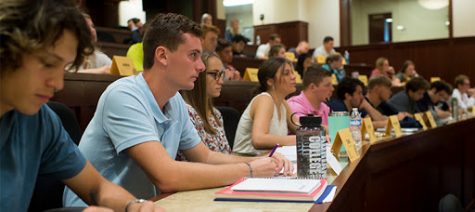 Dozens of colleges and universities have recently announced that they will be open in person this fall after waiting weeks and months to go public with fall plans. Colleges fall announcements started a few weeks ago as vaccination rates began to pick up, but student inboxes and new sites have been flooded with fall reopening news this month, due in part to the ongoing admission season. I personally think campuses should open back up because they have open restaurant's, schools, malls, and much more so why not open campuses in the fall? I feel like covid has affected students learning by putting them over a computer this full year and affecting the way they think and learn. Me and I am sure other students do not want to go through that again. I had a chance to sit down with one of my classmates about their opinion on schools opening back up this fall "I think they should open back up because it will be a wonderful experience for incoming freshman." Many people think the reopening of college and university campuses in the fall should be a national priority. Intuitions should develop public health plans now that builds on three basic elements of controlling the spread of infections: test, trace, and separate.
These plans must be based on the reality that there will be up stick or resurgences in infection until a vaccine is developed, even after we succeed in flattening the curve. We cannot simply send students home and shift to remote learning every time this happens. Colleges and universities must be able to safety handle the possibility of infection on campus while maintain the continuity of their core academic functions. Theu must be sensitive to the challenge of controlling the spread of disease on a college campus. Typically, dormity has shared living and study spaces this can be a problem because some dorms or small to stay six feet apart. "This is really tight place and when you're in your dorm room, you're not going to where a face mask so if you did have covid you and your roommate will get it because you're not six feet apart." Personally, I am cautiously optimistic that campuses can reopen in the fall, but only if careful planning is done now. Jevon Scott a senior student here at CCHS has similar viewpoints "Yes, because a big part of the residential college experience is arriving on campus and living in a dorm and doing the things that we all associate with college."
After being in quarantine for so long for the better part of a year many people like students are anxious to get back to some semblance of normal. Part of what we offer is that residential experience and the community that is built out of being a residential campus. Many people think it's a bad idea to open back campuses in the fall. "We clearly understand that were talking about people lives and their health and not just getting sick for a short period of time. There's an extra responsibility in considering bring back students and faculty and staff who have not been back on campus for various reasons, whether its health or childcare". Many colleges like The University of Mississippi, University of Alabama, University of South Carolina and many more schools have announced that they will go to fully in person instructions with no classroom capacity restrictions this fall. University officials wanted to let students know what to expect for the upcoming fall semester but hesitated to many any announcement without more concrete public health information. Itawamba community college in Fulton, Mississippi announced to in person instructions for the spring semester but recently announced it will offer in person classes for fall semester. The college went public with the fall plans because it knows what its prospective pool of students will be looking to make college decisions soon.
"Any bump from a reopening announcement may be blunted by the fact that so many colleges are doing it, and some colleges officials may have felt the need to go public with falls plans because their competitors were doing so". A lot of colleges have decided not to bring students back to campus for the fall semester. "Several communities colleges in California, which has been hit especially hard by covid-
19, have decided to stick with hybrid or online learning models through the calendar year". The los Rios Community College District, which includes four community colleges near Sacramento said "it was planning a hybrid online in person semester for fall 2021". Many people agree that no institution should make a decision about the fall based on admission prospects alone. Whether they chose to open in person this fall or stay online, college would benefit from telling students what they're planning before the may decision deadline. "If a first-year student is between two different institutions and one is saying vehemently that they are going to open and the other is uncertain, it would make sense that the student would probably lean more towards the institution that is prepared to open". Many colleges are optimistic about reopening but many colleges haven't forgot about the fall semester last year. Many have announced in person fall semester last spring only to modify or revers their plans weeks before the fall semester began or in some cases after students were already on campus.