Terriers in the Guard
 This year Carbondale Community High School has seen a great influx of students joining the United States Military, this article will focus on the students in the National guard. Carbondale High School currently has six students enlisted.  
Sergeant First Class (E-7),  Chris Henry, is the main Carbondale National Guard recruiter, When asked "what do you think the biggest benefit is to joining the Guard?", he responded, "It gives you the opportunity to serve your country part time, while you pursue your career or go to collage". The Guard is a part time job for most allowing one to go to school and to have a military career, just like any other branch of military service, you still attend basic combat training as well as Advanced Individual Training or AIT for short.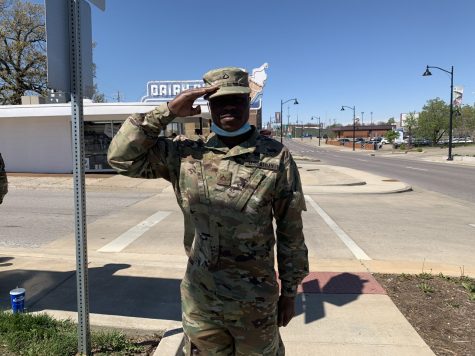 As a high school student in the Guard, it is your responsibility to achieve academic success as well as represent the Guard. One senior in the Guard, Segun Ojewuyi Jr., says he joined the Guard for " free collage, that was a pretty big decider, I also wanted money so I can be independent, better plans for retirement, I also get the benefits from the army, and the biggest reason I joined is when SFC Henry came to the school, he talked about how I'd be able to help the people in the frontlines of natural disasters", he even threw in a joke saying, "also hellcats are pretty nice".

As women become more present within the military, I was able to speak to female enlisted, Sofia Murillo, who when asked "Are you nervous going into a predominately male organization?", she stated, "Yes, because I know what to expect so its sorta nerve racking, I feel like I will feel out of place in some spots. I also feel like it's a achievement for me, growing up in a Hispanic household there is a male superiority, so I feel like I'm breaking the norms, so it feels kinda good." 
If you or anyone else has any questions concerning the National Guard, text SFC henry at (618) 521-4030 or message him on Facebook @Chris henry, mention my name, Austin Shurtz.