Mr. CCHS Magazine
The COVID-19 pandemic has had an impact on almost every aspect of CCHS. From hybrid classes, to pushed back sports seasons, to online club activities, serious changes have had to be made in order to accommodate for the health risks. Key Club is no exception, and with their annual Mr. CCHS Man Pageant, it looked like it would go the same way of most other events: cancellation. But determined to keep a CCHS tradition alive, Key Club is reimagining the Mr. CCHS concept, adjusting to fit safety concerns, and adapting the competition to fit a whole, new medium.
In years past, Mr. CCHS has taken on a pageantry style. Senior boys are invited to sign up and perform in the competition where they dress up, answer questions, and show off their talents in hopes of impressing the judges and winning the title of Mr. CCHS. Usually held in the packed auditorium, carrying
on the show in its usual format simply would not have worked with the state's guidelines. But instead of scraping the project, Key Club plans to bring the Mr. CCHS competition to life through print, in a Vogue-inspired magazine.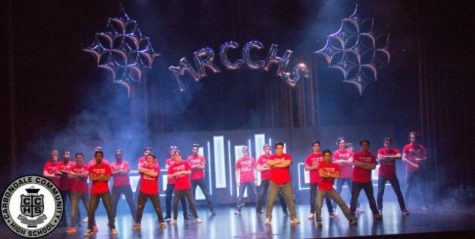 In order to transition away from a live performance, this year's magazine will feature different content than previous Mr. CCHS events. Each contestant will have their own photoshoot highlighting their style and look, and an interview with their escort to provide a glimpse into the personality and character of the seniors. Each contestant will be showcased on their own page featuring the photos alongside an article and fun facts. The interviews will be released separately leading up to the magazine's release. These two central aspects are what will be used to judge the competition and determine Mr. CCHS, who will receive a larger, 2-page spread and will be featured on the cover as the prize for their victory.
"Although we are trying to take it in a new direction, we are still trying to incorporate aspects that are at the event's core," said Marta Narag, the president of Key Club. "We are keeping the escorts, the style of voting, and we are still donating all of the proceeds to the thirst project."
Despite the unfortunate circumstances bringing on this change, the inability to hold a Man Pageant this year facilitated the need for outside-of-the-box thinking. Through that necessity a new, fresh idea has come to fruition in place of the pageant and will hopefully see just as much success.
"Obviously, we'd love to do a performance but given the circumstances I think a magazine is a great idea, and I think this year we're going to make do," said Nathaniel Pimentel, who's competing for the Mr. CCHS crown. And Pimentel is definitely ready to leave it all on the page: "I've got a few tricks up my sleeve. Let's just say you don't want to miss me."
Key club sponsors, Mrs. Peters and Mrs. Rendon, are in the process of choosing a panel to judge the competition. You'll be able to check out Pimentel and the magazine in mid-April, but the exact date has yet to be announced. Be on the lookout for information from Key Club regarding pricing and where to order your copy of the Mr. CCHS Magazine.