Covid-19 Restrictions on CCHS Cheerleading
The Carbondale Community Cheerleading Team, like all other sports teams during the Coronavirus pandemic, have had to undergo lots of restrictions and procedures when conducting practices/activities. 
It all began with the team having to push back the regularly scheduled tryouts, to a much later date, cutting important time usually used for teaching new members necessary content such as routines and sideline cheers. Once tryouts occurred, with the necessary social distances, masks, temperature checks, and health/safety questions, a team was constructed, and the CCHS cheerleaders waited in anticipation to find out whether or not practices would be able to commence.
Once the go was given by the IHSA, practices were finally held , and the CCHS cheerleaders were able to get a late start to their season, teaching a plethora of new routines, sidelines, and chants, all with no real guarantee if there would be a basketball or football season that would even need , or be allowed, to have them there. 
"It was extremely frustrating not knowing when or if we would be back in action at games. All of us really missed being a part of the games atmosphere, and were really looking forward to this season, especially us seniors" said Co-cheer captain Taylor Jones.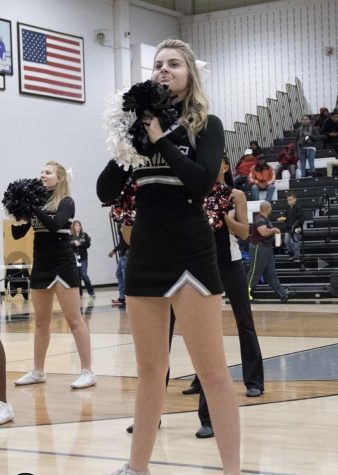 Eventually Coach Deanne Miller broke the news to the girls that practices and any further in meeting activities would have to halt due to the advisory of the IHSA, as Covid-19 cases only began to heighten in the surrounding areas. 
Not much was able to be done without being in person, as cheer is a very physical and contact required sport, "We tried our best to stay in contact as a team and figure out how we could continue to work while socially distanced, but there truly was nothing we came up with. It genuinely is a huge bummer."
 Although at this moment in time the Carbondale Cheer Team is unable to be on the field pumping up the fans and cheering for Terrier Athletics, they remain confident and hopeful for the weeks to come. As soon as it's allowed, they will be able to bounce back and put their best foot forward to try and salvage the remainder of their season. Go Terriers!