Educators Rising- Trying to spread Glee During this pandemic
Coronavirus struck the World by surprise. No one expected this pandemic to be around this long or to be so fatale. Everyone has been affected in some way, and I think it's safe to say that we are all trying to stay optimistic during this time. Trying to find a brighter side to this depressing time.  Which can be a little hard with holidays just around the corner. Holidays are supposed to be about family, love and laughter. Being that we are all being kept apart during this time it's hard to enjoy these holidays, with are loved ones because we want everyone to stay safe. Well one of Carbondale community high schools clubs is determined to help spread a little glee to everyone this year. Educators Rising is a club that I am a part of, they are group for potential teachers to get a feel of being a part of the teaching field. they are hoping to help everyone see that although this has been a strange year, we all have something to be thankful for, and something to still live for.  
This year they decided to do Newsletters and video entries to show their peers and teachers that there is always a brighter picture to things. For Thanksgiving they decided to speak on three things they are thankful for, hoping that it would help lift someone's spirit to enjoy the holiday still. No matter what we all of something to be thankful for everyday, from waking up to receiving a complement. So think about it ; what are you for? I hope that put a smile on your face! They may be a small group but they are hoping to spread a big message, and not just to our school but hopefully to our entire community. 
I had the chance to sit down with the sponsor of Educators Rising Mrs. Love to get more of an insight on her feelings about the club.  
"With the shortage of teachers everywhere, I thought it would be important to start generating and peaking the interest of high school students while they are still exploring career opportunities and options to go into the field of education.  The education field needs diversity, creativity, and I believed if we expose students who are interested in working with children at a young age, we could help or provide them with experience and guidance that could make them excellent teachers".   
This was Mrs. Love response as to why she wanted to get involved with this club. As a teacher she sees the importance that experience is key, experiencing the day-to-day life as a teacher really helps students see if they are cut out for the job. Staying on the topic of the holidays and how it's important to help everyone see that there is something to be thankful for Mrs. Love feels that 
"With all the uncertainty that is taking place in the world today, I believe it is very important to help people see the "good" and the "blessings" we have received during this difficult time."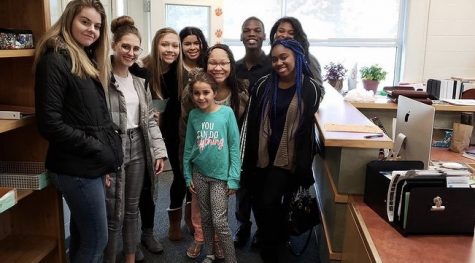 What exactly is the meaning behind these newsletters and video entries; 
"The idea of the newsletter and videos are opportunities for our members to showcase their work.  Our club traditionally goes into our feeder schools to assist teachers, learn more about the teaching profession, and gather hands-on experience.  The pandemic has made those opportunities almost impossible for us at this time.  As I mentioned, I wanted to keep members busy and active and I thought the newsletter and videos would be a great way to do so, while encouraging others."
 although they are hoping to spread glee and joy, they are still hoping to get the experience of teaching. This group is used to be hands on with other schools, and students this gives them the chance to use their words and creativity to improvise just like the many teachers must do daily to keep students motivated and on track to a successful year. Everyone has had to alter their daily lives due to this pandemic. Educators Rising may not me as big as the many other groups in CCHS but I feel they are making a big difference in the community these potential teachers and educators are trying to help shed some light during this dark and trying time, and I know for many students it's needed.  
So, I hope during these strange holidays that you all see the bigger and better picture, we are all still trying to push forward live in the moment, spread positivity! With Thanksgiving tells those who you care about that you are thankful for them show them they are appreciated , and with Christmas right around the corner let's all try not to be a Grinch but be Cindy Lou and inspire those around; just like Educators Rising!