Senior-Faculty Basketball Game
The annual Senior-Faculty basketball game took place on Thursday, February 5th, 2020. The Faculty ended up winning 52-50 in overtime. It had been five years since CCHS had hosted a Senior-Faculty basketball game. This year's game was set to be the most competitive in the past few games. The students were yet to defeat the faculty, and this was the year they'd hoped to win.
Senior Brian Oh didn't just think that the seniors will win, but they'd dominate, "Obviously bro. We got everyone, and look at the teachers, they've got Mr. Thomas and Mr. Storm, they've got no one compared to us seniors. We're definitely going to win by at least 30 points." Sadly, he was very wrong.
While Brian Oh was very upset at the loss, Senior Austin Helbock looked forward more to the fun side of this game, rather than the competitive, " I play a lot of basketball in my free time and I don't play for the team so I thought it would be fun to go out and play in front of people and play among my peers and go against the faculty."
This year's Senior-Faculty basketball game was sponsored by Student Council. Mrs. Jones, the club's head adviser has had little trouble recruiting senior players in the past but when asked about the difficulty of getting faculty to participate in the game, she said, "[It is] tricky for faculty due to family schedules."
The profit made from this event's ticket sales was raised to benefit the senior class. Specifically, the money raised is used to help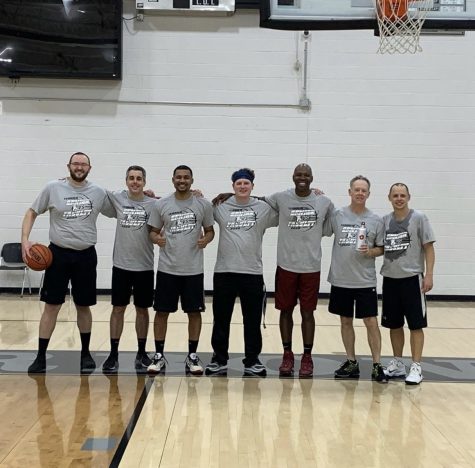 pay for the senior trip to Holiday World so that seniors only need to pay $20 for their ticket and lunch. CCHS has put on multiple events that have to do with the students going against the faculty in athletically related sports. The annual VolleyBro game and last year's assembly dodgeball game are two large events that showcase the general benefits of student-faculty camaraderie. CCHS wants to promote school spirit as well as friendly competition through these events.