CCHS Believes it is Important to "Start With Hello"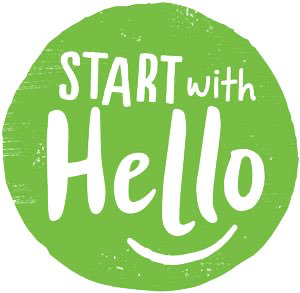 What is Start With Hello?
A Youth Violence Prevention Program by Sandy Hook Promise. Start With Hello brings attention to the growing epidemic of social isolation in our schools and communities and empowers young people to create a culture of inclusion and connectedness within their school or community. While the national week will be September 24-28, we had to postpone our events one week due to Homecoming.
What is CCHS doing? Lifesavers will be leading a week of activities.
"Kindness Board" in the Media Center- Take what you need, Leave what you can…. positive messages to encourage each other and ask for students to leave their own positive messages for somebody else. This will remain in the library all school year.
Start with Hello Tree in the hallway bulletin board outside of the cafeteria. The Tree signifies that we have roots in CCHS and we are all connected by these roots. Names of our students and messages of encouragement will be the leaves.
Daily Themes for the week:
Monday– "Good Day Monday"- Lifesavers will stand at each student entrance door and greet each peer as they walk in.
Tuesday– Thank you Tuesdays (thanking students/faculty around the school) We will have thank you notes set up outside of the cafeteria during lunches to write messages that will be delivered to the person that week.
Wednesday– "Hugs and Hockey"- Since Ms. Jones has a NHL day…We'll pass out Hershey's Hugs chocolate with positive messages of appreciation or encouragement with the chocolate at the table in front of the cafeteria, "CCHS is a Team"
Thursday– "Thoughtful Thursday"- Random Acts of Kindness encouraged throughout the day. The Lifesavers will be leaving post-it notes around the school, locker room, bathrooms with words of encouragement. Sidewalk chalk on the entrances to the school to remind students they are appreciated. Table set up outside of cafeteria to continue to encourage students to stop by and write messages to each other and add to the Start with Hello Tree.
Friday– "High Five Friday" – Lifesavers will initiate high fives and hellos to greet peers in the morning and throughout the day.
*Daily announcements about "Starts with Hello" and the theme for the day presented by a student each morning, encouraging all to participate.
*Daily table set up by Cafeteria with info. on themes as well as where students can be a part of the daily activity.