The Legendary Kinkaid Cliffs
Spencer Fred, Local Redneck
April 16, 2019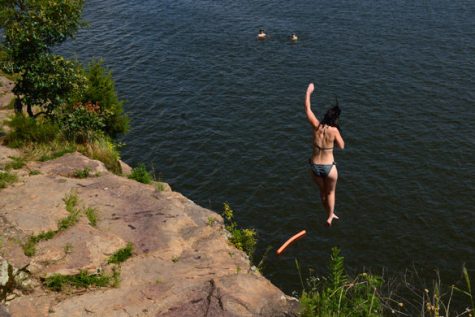 If you are a Southern Illinois native, you know of the Kinkaid cliffs. Scraping the sky at more than 70 feet, the cliff is a destination for all students. Some take a boat, others tread the two mile hike to get there. Many like the long hike and exhilarating adrenaline dump from the first initial jump. It is a tourist destination only known by the locals.
You will see the prettiest sunsets, feel the biggest adrenaline dumps, and meet the nicest people, all while feeling the lake-infused breeze. The cliffs are a good place to meet up with friends or just relax. I personally have gotten there from both ways: hiking and boating. My personal preference is hiking just because of the fact that the water below feels even better after a hot, 2 mile trek through fields and woods.
I have gone with friends and alone. Both are nice, but I like going in a group better. If you just want to relax on the cliff, I recommend going later in the day. If watching people and meeting new friends, I recommend going at noon or around there on a weekend.
Located at 370 48′ 13.9″ N 890 26′ 15.9″W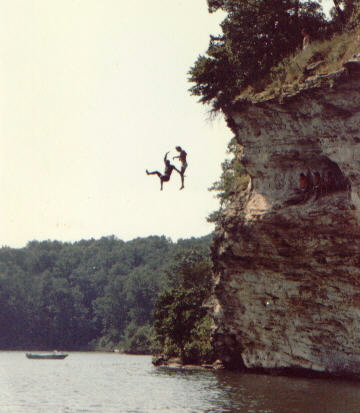 The "Cliffs" have been a swimming hole and hang out spot for kids since the 70's. The lake its self was created in 1968; it is rumored that it was a flooded farm and that a combine still sits under the cliff from when the farmer parked it 51 years ago. More creative locals say that there is a burial ground of an old Cherokee chief under the cliff and at night you can hear his war scream.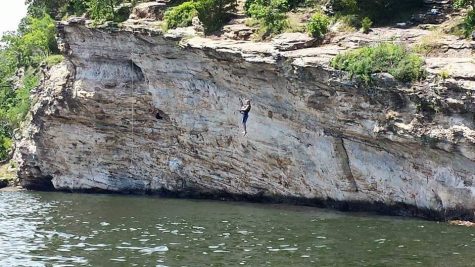 For me, the cliff is a way for me and my friends to set up our hammocks, sit back and watch people throw themselves off a cliff into the waters below.
If the cliffs are too high speed, Kinkaid also has a very natural spillway for swimming and fishing. Its a normal hang out for families and younger kids with a shorter hike but a pretty long boat ride from the marina or Paul Ice.