How To Hit A Softball
I've been playing softball since I was 4 years old, starting at tee-ball. I've batted right handed from Tee-Ball to my freshman year of high school. I switched over to a left handed slapper the beginning of my freshman year and plan to continue throughout my college career at Kaskaskia College. Here's a few tips I've learned over the years on how to hit a softball.
Step One-  Relax in the batters box.
When stepping into the batters box, its time to take the test (hitting test). You've been practicing for the test (batting practice) forever. Make sure you are relaxed, take a deep breath and tell yourself "Keep it simple. See Ball, Hit Ball".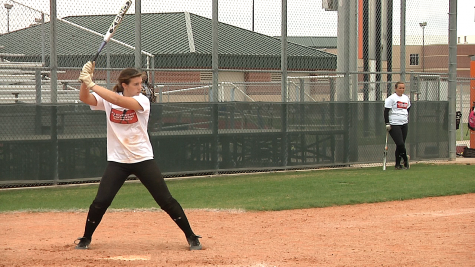 Step Two- Watch the softball leave the hip.
When in the batters box and the pitch steps up to the mound, load, then watch the ball the whole time. Focus on the pitchers release and watch the ball as it leaves her hand. Recognize if her hand falls in or out, if the pitch is going to be an inside pitch or outside pitch.

Step Three-  Watch the ball, hit the bat.
After the ball leaves the pitchers hand, your eyes should watch the ball all the way to your contact point. You should turn your hips and swing your arm both to the ball and full of power. Eyes watching the ball the whole time after you hear and watch the ball crack the bat with force and bounce off into the field you RUN!!!