Carbondale Community High School Senior Interview
Carbondale Community High School Senior – Interview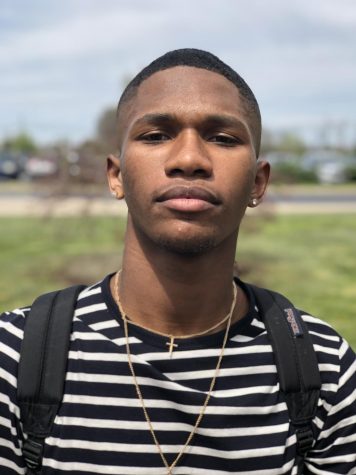 Jalen Michael Carter, A Senior At Carbondale Community High School.
CARBONDALE
Jalen Michael Carter is an 18 years old senior here at Carbondale Community High School. He plans on attending college in the fall, majoring in Criminal Justice & Law at John A. Logan
Q. Do you consider yourself as a self starter?
Jalen considers himself as a self starter. 
A. "I like to start things, and work my way up."
Q.What does it mean to be independent?
A. "To be independent is to be your own leader and to show others what they can be, but being independent means that you're able to handle your financial needs as far as owning your own house, car and having enough money to support yourself in the future.'
Q. What does it mean to be a team player?
A. "To be a team player is to be well rounded, patient and kind."
Q. How well do you think you work under pressure? Why?
A. "I'm not really good with working under pressure, but it motivates me when others don't believe in me.'
Q. What motives you?
A. "It depends if I know that it's gonna better my future then I will want to put my thoughts to it but if I know that it needs to be done I have to work with what I got."
"This money, this bread and  this stack. But to be serious my grandmother motivates me the most. She's taught me so much every time I stepped foot in her class as a child.'
Jalen is often motivated by the materialistic things in life but he's motivated the most by his grandmother.
Q. What are you passionate about?
A. 'I'm passionate about my future, I want to have the most of my lifestyle not just for myself but for my parents and friends. I want the best future nice car nice house, everything I want for my family and friends."
Did you know? Jalen has a passion for arts? Mind blowing!
"I took art classes like art fundamentals and ceramics."
Q. What is your greatest weakness (academically)?
A. His greatest weakness is math.   
Q. What types of media do you read?
"I'm getting into reading about the news and politics."
Q. Who's your favorite actress? Why?
His Favorite Actress Is Oprah Winfrey.
"She started in the color purple."
Q. What do you do when not in school?
A. Everyday after school Jalen takes on a job in giant city road teaching children.
Q. What's your biggest fear?
A. Jalen's biggest fear is to die in a plane crash, and his dream is to not die in a plane crash with the hope of not getting on a plane at all.
Q. Give an example of a time you failed.
A. "I don't fail I only take W's."
Q. Give an example of a time you succeeded. How did you feel? Why?
A. "My first year doing track I had my first track meet and I got first place in one of the open events, and I was really proud of myself because I wasn't the fastest nor the slowest."
Q. Who are your role models? People you look up to or think are cool?
A. He looks up to Rosa Parks and Whitney Houston.
Q. What do you aspire to be?
A. He inspires to be an entrepreneur in the future, "rather than working for the man, I can build my own brand and be the man."
Q. What do you hope to be doing in 10 years?
A. In the next ten years, he plans his life to have the most finest things in life as far as cars, houses and having a career of his dream.  "I want to live on a tropical island."
Q. Describe some of your biggest challenges.
A. One of his biggest challenges with school will have to be "staying awake in class, communications with people and keeping up with assignments."
Q. Do you consider yourself a cat (more independent) or a dog (less independent)?
A. He considers himself as a cat whose mostly independent, "A cat mentality and dog physically, growing up around people who has that mentality, and having to contain the dog mentality as well growing up."
Q. What kind of music do you like? Why?
He shares the love of trap, hood and ghetto music.
A. "I'm not all about the violence that the music industry portrays, but it's just the environment I grew up in I could relate more to what they're saying rather than doing."
Q. What's your ideal outfit?
"Summer time outfits would usually be a nice tee, shorts with a nice chain but you'll never catch me dead in corduroy pants."
Q. What are you good at?
Jalen is good at .. 
A. "Eating, sleeping, running and being the man of the house.
As a young adult he wants to develop his communication skills and further his education.