Duke Blue Devils Basketball Trio and Hot Start
Vincent Bullock
November 14, 2018
Hang on for a minute...we're trying to find some more stories you might like.
The Duke Blue Devils men's basketball team is off to a hot start.  Winning all 3 preseason games by a large margin, the Blue Devils came into the season opener versus the notorious Kentucky Wildcats with all the confidence in the world.  Duke beat Kentucky by a huge 34 points to give the Wildcats a loss.  Number one recruit R.J. Barrett scored 33 points, and added on 4 rebounds and 6 assists for the Blue Devils.  Zion Williamson, the number two recruit, put up 28 points, and added 7 rebounds, 2 assists, a blo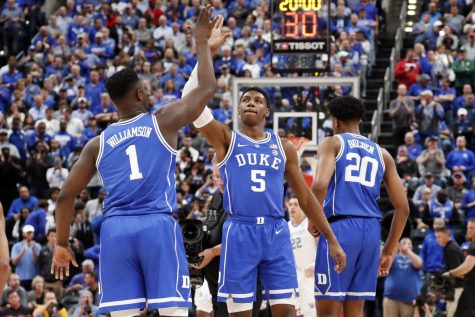 ck and a steal, for the Blue Devils.  Cam Reddish, the number three recruit, contributed a slight 22 points with 2 rebounds, 3 assists, and 4 steals.  These three are going to be a force to be reckoned with all season long.
Duke has the number one recruiting class in the nation.  Having the top 3 recruits in the nation is unprecedented.  With Coach K (Krzyzewski), this Blue Devils team is bound for greatness.
This past Saturday, the Blue Devils faced the Army at home.  Once again, the trio freshman lead the Blue Devils to a 94-72 victory.  Williamson lead the team with 27 points, while Reddish added 25, and Barrett contributed 23.  There were big time highlights from these three all throughout the game.
Keep an eye out for the Blue Devils this season as I predict that they will not be doing a lot of losing.