Terrier Tennis
February 18, 2020
Tennis Pre-Season
As the Tennis team ramps up for the spring 2020 season, many of the players are going above and beyond to achieve success in the coming months. Not only is there school ran tennis workouts twice a week, but most players are attending clinics on their off days to try and improve. 
With key last year's seniors such as Tyler Sherril and Jack Butler graduating, the current seniors have big shoes to fill. Will Bruns, a current senior, said "we'd love to win sectionals as a team this year. Last year, while several individuals advanced to state, the entirety of the team did not. Across the board the team is solid this year, and nothing would make our last season more special then to come out with a sectional title"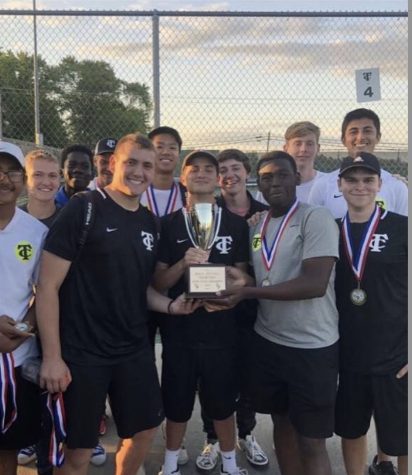 Marion and Mt. Vernon will be the toughest conference opponents, and the Terrier's will get a chance to see them at the Edwardsville tournament in early March. The Terriers want to make a statement, we've always had the reputation to have a good team, and we intend to prove that this year. 
Mike Butler is in his 20th season as the Terrier's Tennis coach, and hopes to continue his success this year. Butler said "We've never finished less than third in our conference or at the sectional tournament. We hope to continue the streak this year and move forward steadily in the playoffs". He also spoke about the goals for the team, winning conference and sectionals is what they are aiming for, and continue to strive for those by putting in pre-season training.