Rafael Nadal: The Raging Bull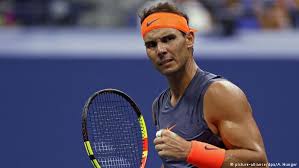 Hang on for a minute...we're trying to find some more stories you might like.
Tennis is known as a classy sport with respect. When you think of tennis, you think of the legendary tournament Wimbledon, the epitome of tennis and class. A tournament with standards so high, the players are only allowed to wear all white uniforms. But in this mix of tennis, is one player who stands out more than any other. Rafael Nadal is the most relentless, and intense player in the high-class sport of tennis.
Known as the Raging Bull, Rafael Nadal is a world renowned tennis player. With a career starting in 2001, Nadal has had nothing but success on the tennis court. In the past 17 years, Rafael Nadal has built a record of 918 wins, with 189 loses. During this span, he has also won 17 Grand slam tournaments, only trailing Roger Federer, and has won 63 other major titles.
Rafael Nadal was the son of a professional tennis player, Toni Nadal. Unfortunately for Toni, his son surpassed his skills at a young age. Rafael began to play tennis at the age of three, and ever since then, he has yet to slow down. But this dedication to tennis has hurt Rafael in some ways. During his career, Rafael Nadal has had to take over 25 months off due to injury. Even with these hardships, Rafael has continued to prove why he is known as the raging bull
His biggest contribution to tennis, is his dominant on clay. Another nickname Nadal holds is "The King of Clay". Nadal has won over 400 matches on clay courts. In the French open, which is the only grand slam held on clay courts, Nadal is 11-0 in the finals. His dominance on clay has been unmatched by any other player in the sport of tennis.
Even with all this success, Rafael still is not known for his winning. Perhaps Rafael Nadal greatest achievement is his commitment to the disadvantaged; To answer the question of his greatest achievement, the Spanish tennis player replied: "The foundation that bears my name," which has been responsible for helping more than 1000 children from both India and Spain. He, as well as his helpers, girlfriend Xisca Perelló and mother Ana María Parera, actively collaborate with other foundations promoting educational projects for the less fortunate in life. Click here to take a deeper look at the foundation.
There is still much debate on who the greatest of all time is in the sport of tennis, but even if the odds do not lean in Rafael Nadal's favor, I still believe that he is the most dominant player of all time as he is the number one ranked player in the world at the age of 32 and is showing no signs of slowing down.
To take another look at Rafael Nadal's success on the court, click here to watch his highlights throughout his career.